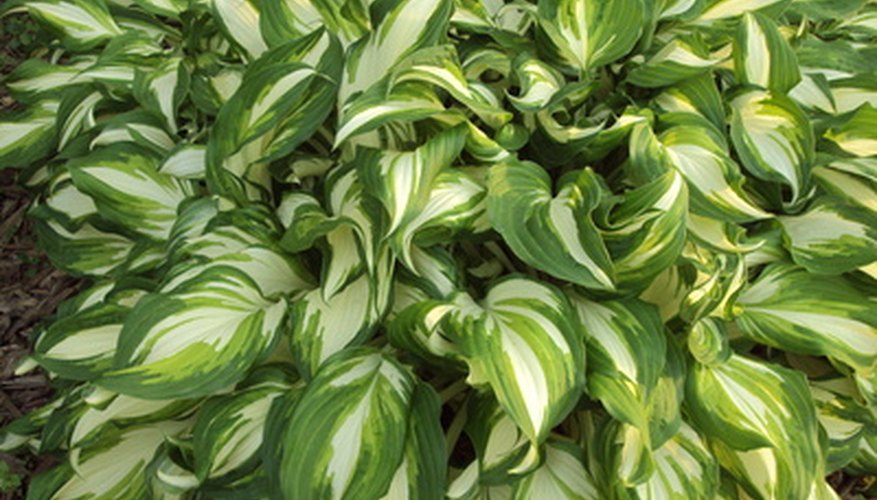 Hostas that grow successfully look lush and full, but can also start to become overcrowded if they aren't divided every few years. If your once large-leafed plant is looking small and struggling for water, it's time to divide it. Splitting hostas is a relatively easy task, but you'll want to be sure you have all the supplies necessary and have a new shady location already picked out and ready for the new plantings.
Look for new shoots to emerge in the spring and once the shoots are 2 inches tall it is time to dig up the hosta. Start 6 inches away from the shoots and work the head of a strong shovel up under the whole plant and bring the entire hosta up in one piece.
Clean the base of the hosta off with a gentle flow of water to expose the roots and basal plate, the area dividing the foliage and the roots. Cut straight down through the basal plate with a knife without cutting the roots to divide the hosta into pieces with each chunk having three to five shoots.
Set one division back into the original hole and add compost or garden soil to fill the hole back in. Place each other division in holes at least 6 inches deep and add compost or garden soil to fill them as well. Each division should be set in only as deep as it was growing before.
Soak the dirt around each hosta and keep the soil well moist for the first month to month and a half. Add 2 inches of mulch around each plant to keep the water in.
Give your hostas time to grow, but once each appears established and filling in its space well you can apply a general purpose fertilizer in water soluble form to the base of the plant following the packaging instructions.