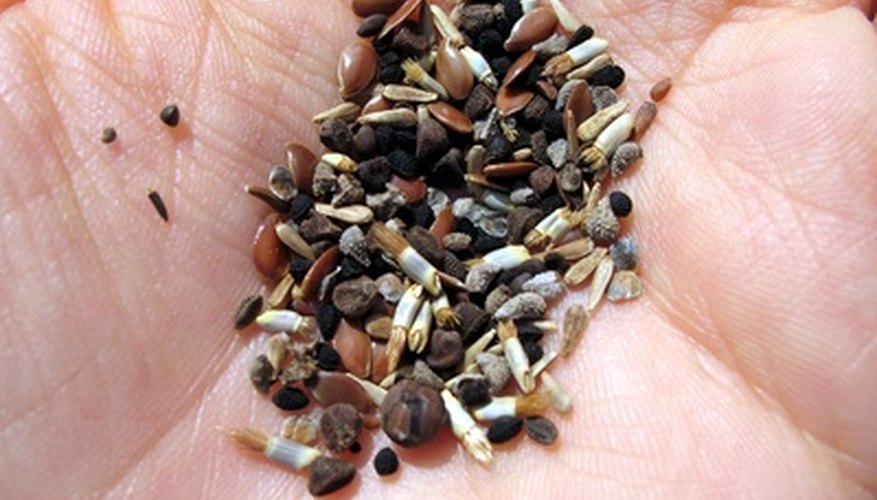 A resourceful way to manage your garden and prepare for the growing season ahead is to save your own seeds from flowers, vegetables, and herbs you grew. When you harvest seeds from plants, not only do you get free seeds, but you can collect from your healthiest, most successful plants to ensure the next year will be just as productive. Plan ahead before you collect so you're ready with the supplies you need and work with only one variety of plant at a time to avoid confusion.
Hold a paper plate under full flower pods on annual and perennial plants like morning glories, marigolds, and rose of Sharon when they appear dry and brown but before they open. Squeeze the pod to pop it open and let the seeds drop onto the paper plate. This is best done on a day without wind.
Collect herb seeds from plants like lavender, cilantro, or dill by clipping stems 3 to 4 inches below the seed heads a week or two after flowering and suspend the seed head upside-down inside a paper bag. Tie the bag shut with string or a rubber band and let the seed head dry for two weeks. Once dry, the seed heads can be shaken and the seeds will drop into the bag.
Cut open vegetables like pumpkins, peppers, squash, tomatoes, and zucchini that are fleshier inside and scoop the seeds and any pulp out into a bowl. Sort the seeds from the pulp and rinse in a strainer before spreading on a paper plate to dry for a few weeks in a warm, dry location. Allow beans and peas to dry on the vine where they grew, and corn should dry in the husk. Once they are mostly dry the beans, peas, and corn kernels can be separated from one another and dried on a plate for a few days.
Leave leaf vegetables such as spinach and lettuce outside through the heat of summer to cause the plant to bolt and cut the tops of the plants off a few days after flowering. Place the top, flower first, into a paper bag to hang upside-down and drop seeds as they dry over a week-long period or more.
Store all fully dry seeds in clearly labeled envelopes in a cool, dry place. Include the type of vegetable, herb, or flower on the label, and the date you collected it.