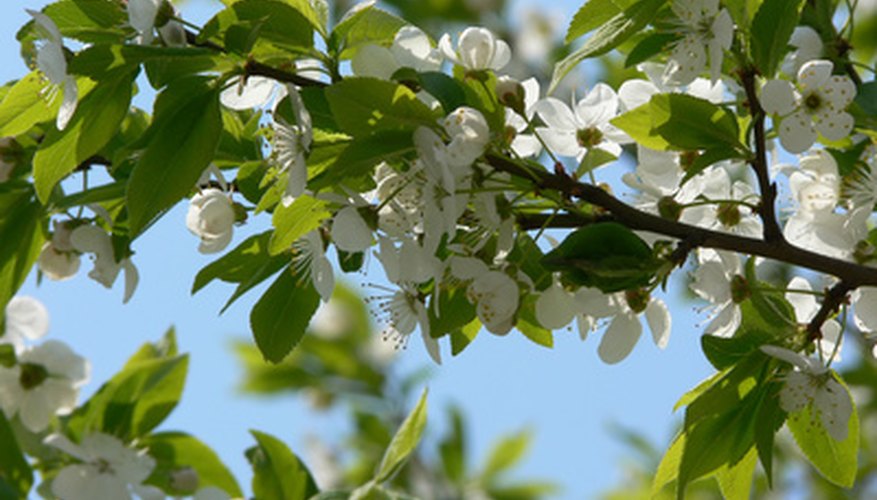 Flowering plum trees include varieties native to the United States and those introduced from abroad. Some have undergone decades of improvement, resulting in hybrids prized for their flowers or fruit. Others grow wild in woodland shade or along country roads. Some have large, succulent fruit but many produce small acidic fruit appealing only to birds. Their common virtues are fragrant white or pink clouds of spring bloom.
Cherry Plum
Cherry plum (Prunus cerasifera), says the Missouri Botanical Garden, is a native of western Asia that can survive in winter temperatures as low as minus 15 degrees F (US Hardiness Zone 5). A small-to-medium tree standing between 15 and 30 feet tall and up to 25 feet wide, cherry plum grows wild in the northeastern and western United States. Home gardeners grow cherry plum cultivars as ornamentals.
The most popular cultivars are 15-to-20-foot "Krauter Vesuvius," with red-purple foliage and deep pink spring blossoms; "Thundercloud," up to 25 feet high with purple leaves and pale pink blooms; and "Newport," 15 to 20 feet with purple foliage and white to pink blooms. All bloom in early spring before leafing out. They provide good fall color, but their small, sweet fruit lacks flavor. Plant cherry plum in average, moist well-drained loam. It requires full sun for maximum bloom and leaf color.
Chickasaw Plum
Chickasaw plum (Prunus angustifolia), native to the southern United States, grows wild in woodlands and pastures and along roadsides. Most grow in thickets up to 10 feet high, but single trees can reach 20 feet with a similar spread. Chickasaw plum blooms early. Its clusters of two to four small, fragrant white flowers appear in March, before its green leaves.
The edible, tart plums ripen by mid-August. The Missouri Botanical Garden recommends them for preserves. Plant Chickasaw plum in average well-drained loam and sun to part shade. Remove its root suckers to prevent it from colonizing, or allow it to spread as a privacy screen.
Dwarf Plum 'Starking Delicious'
Dwarf plum (Prunus domestica) or "Starking Delicious" is one of several cultivars developed for use in home orchards. Standing 8 to 10 feet high and wide, it has full-size fruit easily harvested from low branches. This dwarf plum blooms in April with fragrant clusters of white flowers. Its red plums are ripe by mid-August.
"Starking Delicious" needs a location with moist well-drained soil, full sun and shelter from late spring frosts. Plant it with another plum tree variety for cross-pollination and fruit production. Protect the ripening fruit with bird netting.