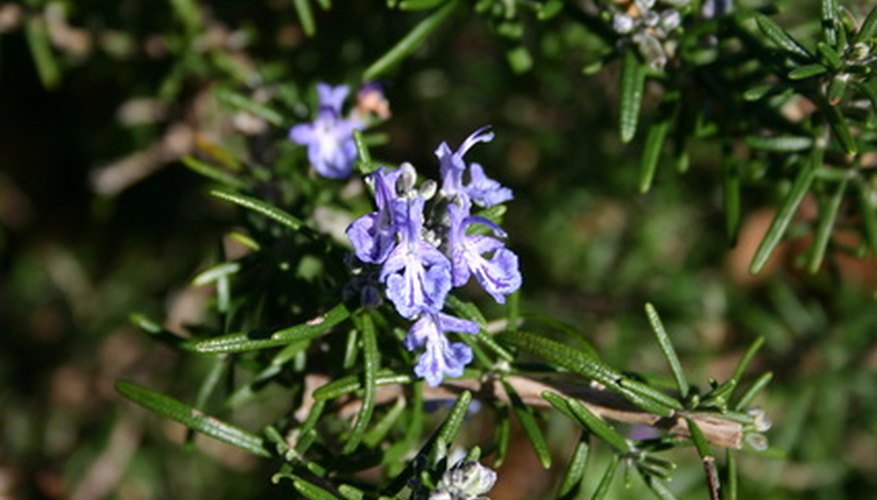 According to Dan Culbert, University of Florida horticulturist, the rosemary plant is unique as a culinary herb, landscape plant, and tabletop tree or bonsai wreath. This woody herb grows in mild winter climates as a perennial and in freeze-prone zones as an annual. The best planting conditions include a temperate climate, sunny exposure and modest water.
Climate Conditions
Rosemary is an herb related to mint. It is slow-growing and requires plenty of sun for its dense evergreen needle foliage. As an annual, rosemary grows in a small pot or herb garden to a height of perhaps a foot. Its leaves are pinched off and used fresh or dried as herbal flavoring for meat and vegetables. The pungent, distinctive rosemary oil develops best in a perennial plant that receives 6 to 8 hours of daily sun and is protected from prolonged freezing temperatures. In a temperate climate, unpruned rosemary branches sprawl along the ground and root as adjacent plants. Break off rooted branches and plant them quickly in a pot or moist soil for a new rosemary plant.
Planting Conditions
Plant prostrate or trailing rosemary in containers, raised planters or window boxes. Trailing rosemary is drought tolerant and takes heat well for short periods. For these reasons it is popular in shopping center planters and in patio pots inter-planted with ornamental grasses and tall annuals such as snapdragons.
Plant upright rosemary shrubs in landscapes protected from drying summer winds and excess shade. In clay or cobble soil, upright rosemary cultivars use little water and grow up to 6 feet tall and wide. They tolerate pruning year-round and make excellent topiary plants. In mild winter zones, upright rosemary are grown in large containers and pruned as cone-shaped holiday trees. Keep the containers on rollers for good drainage and plant mobility. Roll the plant to protected areas during extreme weather. Decorate with seasonal ornaments and lights for special occasions. Horticulturist Culbert reports some growers turn potted rosemary into living wreathes. Plant the rosemary in larger pots or directly into a mildly fertile and well-drained soil when frost danger is over.
Water Conditions
Too much water causes rosemary root rot. Too little water causes plant death. The roots tolerate dry spells but must not dry out completely or the plant dies. Horticulturist Culbert reports rosemary roots like to be dry and leaves like to absorb moisture. Mist the needle-like foliage when dust or pollution coats the leaves. A good shower washes off the leaf pores and perks up a heat-beat plant. Water perhaps twice a week during bloom season as the plant is more vigorous when flowering. These plants grow well under drip irrigation.