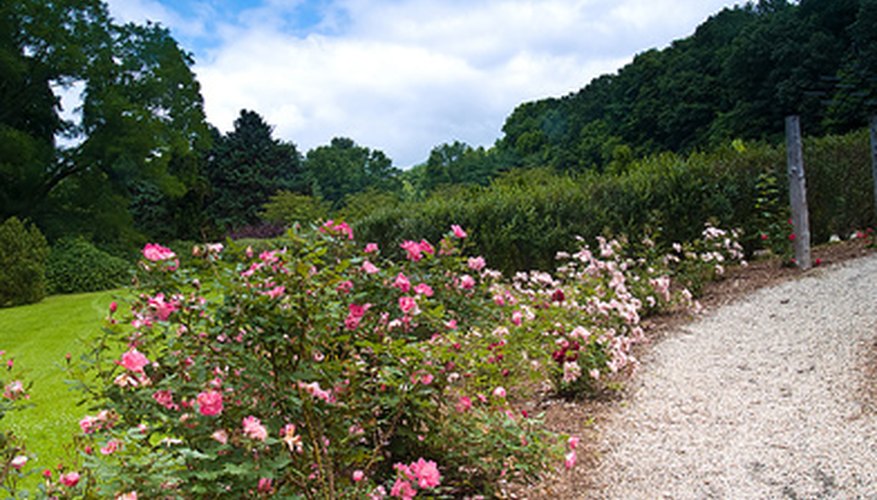 The perfect landscape contains a blend of trees, shrubs and flowers that work together to accent the exterior of a home. Shrub and flower combinations form cohesion throughout the landscape through the use of similar plants, color, pattern and scale to create a pleasing home landscape. Mixing shrubs and flowers allows for versatility as well as expression by each individual gardener. Ideas for planting flowers and shrubs include using a blend to create distinctive foundation plantings, borders and island gardens.
Shrubs as a Frame
Taller plants serve as the perfect ornamental frame for perennial and annual flowers. Plant shrubs such as evergreens as the tallest plants in your garden close the foundation of the home. Leave space between and around these foundation shrubs to showcase clumping perennials or annuals. Landscapers plant foundation shrubs to hide unsightly brick or concrete supports. Use this space to accent the front of your home by creating a flower bed in front of the shrubs. Perspective and point of view serves as an integral tool to this type of garden design. Gardens rarely provide visual interest from a single viewpoint, so always consider different angles when installing flowers and shrubs.
Border Gardens
Border flower beds accent certain features of the landscape without drawing too much attention from the main attraction, the home itself. This type of flower bed lines all or a portion of a sidewalk or driveway to direct traffic to the front door. Blending small shrubs such as dwarf boxwood in the border garden allows the planting area to take on a relaxing tone. Don't densely mix in flowers to create a swath of color unless it's your preference. Clump annuals in groups of three plants to increase impact and choose flowering perennials spaced throughout the garden. Consider choosing types and colors of plants in other parts of the landscape to create cohesion and tie everything together.
Island Gardens
Shrubs allow the gardener to provide continual texture and color in the garden throughout the year. A fondness for one particular shrub requires the creation of a focal point in the landscape to accentuate the appealing features of the plant. For example, a lilac or crepe myrtle in the center of the island garden attracts immediate attention. Foliage provides landscape interest during the growing season that gets radically enhanced during blooming phases. Functionally, the garden is complete. Add ground cover or annuals around the shrub to give depth to the design. Larger gardens can feature multiple rows of flowers or a mix of annuals and perennial flowers to adequately fill the space.
Resources