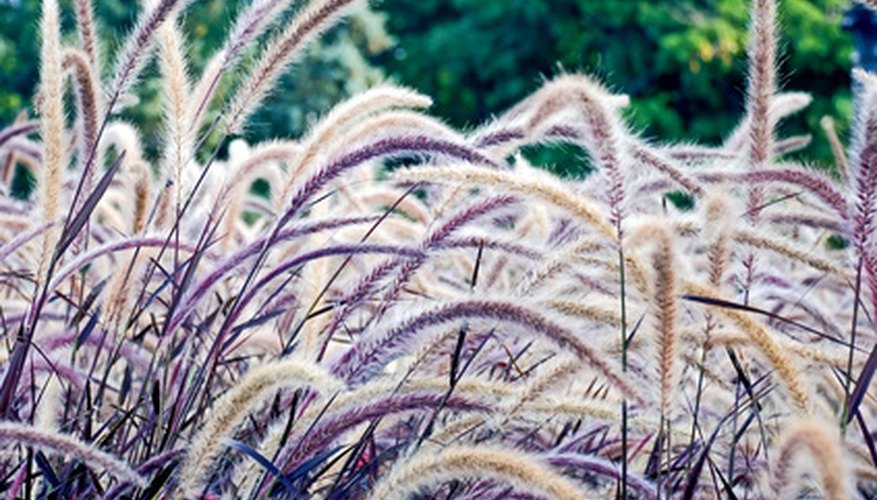 New England has five USDA hardiness zones, from zone 3B to zone 7A, comprising a wide range of low winter temperatures from 35 degrees below zero to 5 degrees above. Gardeners in the warmer hardiness zones have the widest choice of ornamental grasses. The only zones they are not hardy in are the coldest, where they can be grown in containers.
Japanese Sweet Flag
Japanese sweet flag (Acorus gramineus) is also known as Japanese rush, grassy-leaved sweet flag and dwarf sweet flag and is a member of the arum family. The plant produces semi-evergreen thin, flat, glossy leaves that grow from 6 to 14 inches long and droop over, with the outer ones touching the ground. The flowers bloom on plants that are grown in water, are shaped like little horns and bloom in midsummer. Plant Japanese sweet flag in full sun or partial shade and in a soil that is moist to wet. The plant does well when planted by a pond or stream and in water that is from 3 to 6 inches deep. The plant is hardy in USDA hardiness zones 6 and 7 (Southern New England).
Appalachian Sedge
Appalachian sedge (Carex appalachica) is a member of the sedge family with fine, medium green leaves that grow 12 to 24 inches long that droop over to form clumps of grass that are 4 to 8 inches in diameter. The plant produces small flowers in the spring and is native to the eastern part of the United States ranging from Maine to South Carolina then west to Tennessee, Kentucky and Ohio. Plant Appalachian sedge in full shade or dappled sunlight and average to well drained soils. The plant is hardy in Zones 5 through 7, which is most of New England except for Northern Maine, along the Canadian border and part of Central Vermont.
Blue Fescue
Blue fescue (Festuca glauca), also known as gray fescue and garden fescue, is a member of the grass family. The plant grows from 6 to 12 inches tall and just about as wide and produces thin, fine, blue-gray leaves that either stand erect or droop over. The flowers bloom in the summer, growing taller than the leaves in spikes. Plant blue fescue in full sun and sandy, well drained soils to get the best results. The plant is salt-tolerant and is a good choice for planting along the shore. Blue fescue is hardy in Zones 4 through 7 in New England, all but Northern Maine and a small area in Northern Vermont and New Hampshire.