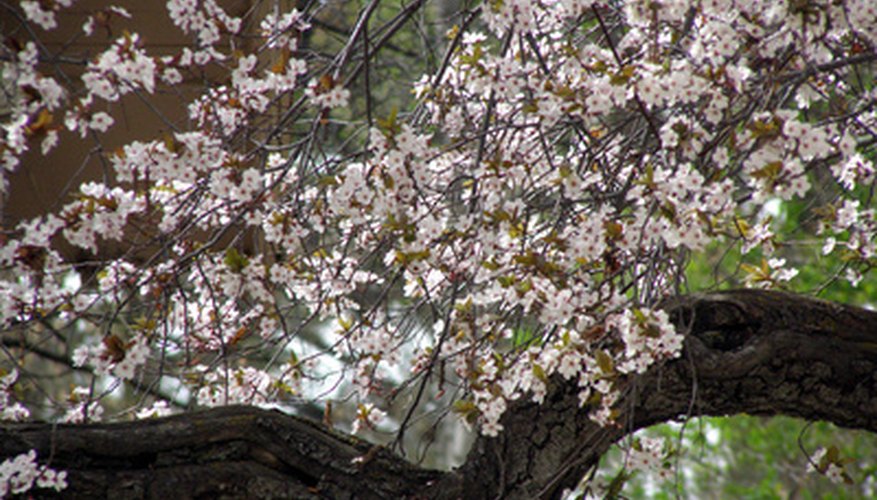 Cultivated cherry trees got their start with the first settlers living in Plymouth, Massachusetts. From a packet of seeds sent to the colony in 1628, cherry trees grew and thrived, providing an important food source. Eventually, the discovery of wild black cherry trees growing in the eastern United States provided a good source of beautiful wood for furniture and household goods. Cherry trees still offer a variety of benefits just as important today as almost 400 years ago.
Landscape
Cherry trees offer shade in the garden once their leaves appear. The beautiful spring blossoms make an early appearance in most gardens, some adding fragrance while also contributing beauty, form and grace to almost any garden or landscape.
Furniture
Wood from the black cherry tree makes beautiful furniture thanks to its close-grained, reddish-brown coloring. The wood also sands and stains well, making it ideal hobby material. The wood gets used in caskets, gunstocks, musical instruments and veneer. The hard, strong wood also makes it ideal for use in a few scientific instruments and as an important material in mount engravings and etchings for the printing industry.
Wildlife
The fruits from both the wild red cherry, also known as pin cherry, and the wild black cherry provide an important food source for birds such as song birds and upland game birds. Deer and rabbits also like to eat the seedlings and sprouts of black cherry trees. The fruit from cultivated cherry trees grown in gardens and orchards also appeals to a variety of birds. Squirrels and chipmunks nibble at the fruit in order to reach the seed inside.
Eating
Sweet cherries taste great fresh off the tree. While some people eat freshly picked sour cherries, most of the tart fruits get cooked for use in pies, cobblers and other desserts. Sweet and sour cherries also work well in jellies, jams and preserves. Canning and freezing cherries also helps prolong their use.
Salted Cherry Blossoms
The blossoms from cherry trees also get used in a variety of dishes, especially in Japanese cooking. Cherry leaves and blossoms usually get salt-pickled for use in candies or tea. A tea made from cherry blossoms requires pouring hot water over a salted cherry blossom, then letting it steep for a few minutes, making a salty, flowery-tasting tea.
Traditional
Early colonists learned to use extract from the wild black cherry's bark to make a cough syrup to help treat bronchitis and sooth colds and coughs. They also used the fruit to flavor rum and brandy. Native Americans used the twigs, roots and fruits of the black cherry tree to treat diarrhea, lung congestion, coughs and colds. Cherries also got added to a mixture of fruit, meat and fat to make pemmican, an important dried food used in the winter.