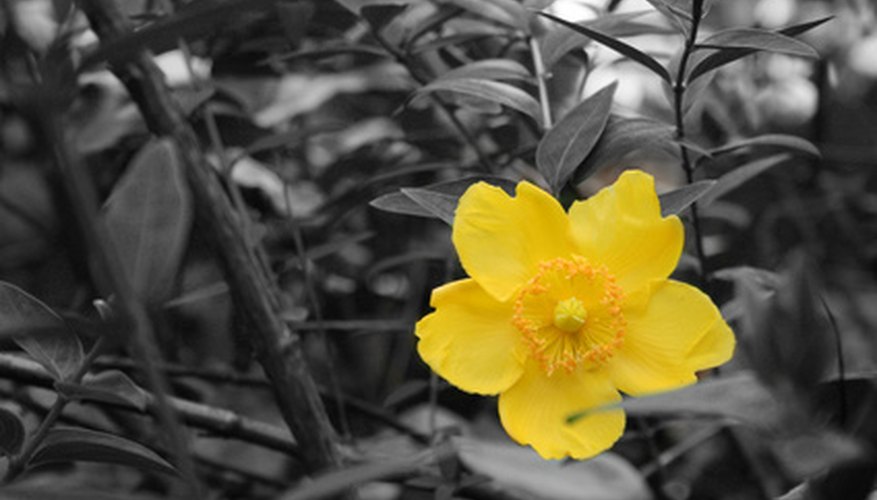 Thanks in part to its mild winters and damp summers, Ireland is green year round. Compared to other European countries however, there is a relatively small amount of native flora. This is due to Ireland's small size and its recent geological history. Most of the flora in Ireland is considered endangered and is protected and can be distinguished by where it is located, such as in the woods, in ponds and streams, in bogs and along the coasts.
Woodland Flowers
Traditional woodlands comprise a small percentage of habitat in Ireland. The Coillte Woodland Restoration has identified four different types of woodlands: alluvial woodland, also known as floodplains; bog woodland; woodland with bare limestone bedrock and yew woodland. Flowers associated with limestone and yew woodlands include holly, burnet rose, primrose, mountain avens and wild violets.
Aquatic Flowers
Aquatic flowers are found in alluvial woodlands, which are low-lying wetlands that flood during the spring thaw. Examples of these areas in Ireland include Rea's Wood, Farr's Bay, Hollymount and Upper Lough Erne in Northern Ireland, according to the Joint Nature Conservation Committee. Examples of native flowers include arrowhead, water forget-me-not, water-lily, water-cress, yellow iris, frogbit and water-plantain.
Bog Flowers
Bog flowers are found in Ireland's peat bog woodlands, of which there are three types: raised bogs, fens and blanket bogs, according to the Irish Peatland Conservation Council. The soil in raised and blanket bogs is acidic, while the fen is alkaline. Examples of native flowers found in bogs include butterwort, bell heather, wild orchids, meadow thistle, English stonecrop and flax.
Coastal Flowers
To survive, coastal flowers must be very tolerant to salt, either in the water or through the air, according to Irish Wildflowers. Because of the drying effects, these flowers must be able to retain moisture like desert flowers. Examples include buttercups, sea aster, cats-ear, hawkbit, sea mayweed, sea-sprurry, wild thyme and yellow-wort.