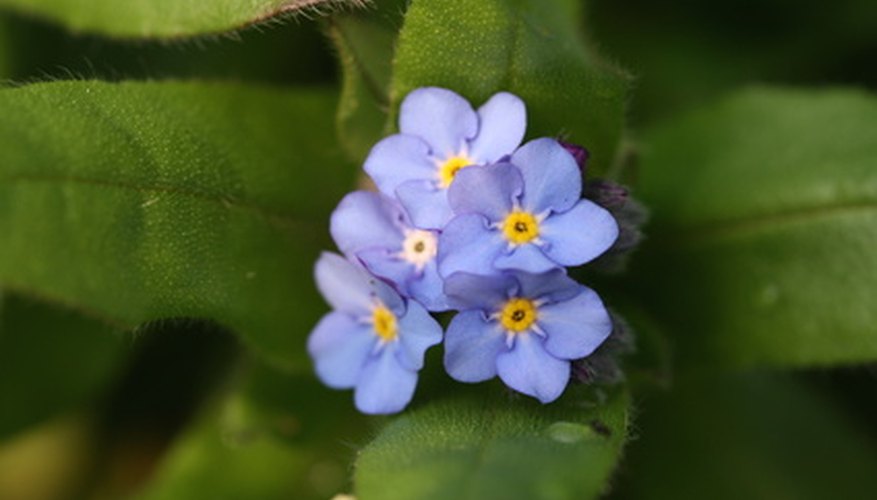 Sunny outdoor spots tend to hog all the attention, usually because there are so many showy plants that grow well there. Shaded areas tend to take a back seat or are altogether forgotten because they can present more growing challenges. Landscapers can forget that shade still offers plenty of planting opportunities. Certain plant varieties can withstand shade, or even prefer it, and can provide some color and structure to areas that would otherwise remain bare.
Impatiens
Impatiens are annual flowers that come in a wide range of colors, from striped pink and white to magenta. According to the Iowa State University Extension, they are the most popular bedding flower in the United States and are also often planted in containers and hanging baskets. Flowers grow up to 2 inches in diameter and the plants themselves up to 18 inches tall, depending on variety. They grow best in moist, well-drained soil and partial shade, but can also tolerate heavily shaded areas. Weekly watering will ensure they bloom all summer.
Pansies
One of the most hardy North American annuals, pansies bloom prolifically for most of the year, and as perennials in temperate climates that are not too hot or cold, like California, states the Texas A&M University Department of Agriculture. They are mostly grown as fall and winter annuals. Their vivid, multi-colored petals form a cheery face-like pattern. Colors can range from deep purple to bright yellow, with blooms falling into three size categories ranging from 2 to 4 inches. Pansies enjoy shade, although they like to see some morning sun.
Hostas
Natives of Japan, Korea and China, hostas came to the United States in the mid 1800s. They are popular perennials that grow well in the shade. The Ohio State University Extension says plants usually reach maturity within 4 to 8 years, but in the meantime grow easily in a range of hues and heights up to 3 feet tall. Leaves can be a solid color or variegated along the full surface or edges. All cultivars feature tall, spiky summer blooms in lavender and white. Plants are shade tolerant but do not thrive in deep shade.
Ferns
Ferns, grown for their feathery, eye-catching foliage, often grow naturally in dense shade and humidity. Hardy varieties, like wood fern and ostrich fern, can withstand temperate climates and grow as perennials if some protection is offered, while others are more tender and temperamental about temperature and moisture, the University of New Hampshire states. Hardy ferns are usually planted in the fall and can easily be divided in the spring.
Forget-Me-Not
Forget-me-not is a ground cover perennial that usually grows less than 1 foot tall. It can grow in some sun, but prefers partial to full shade in all parts of North America. Blooms that appear in spring feature soft blue flowers with yellow centers. This waterside wildflower appreciates a spot that can offer it plenty of moisture, but does not like to grow beneath evergreens.