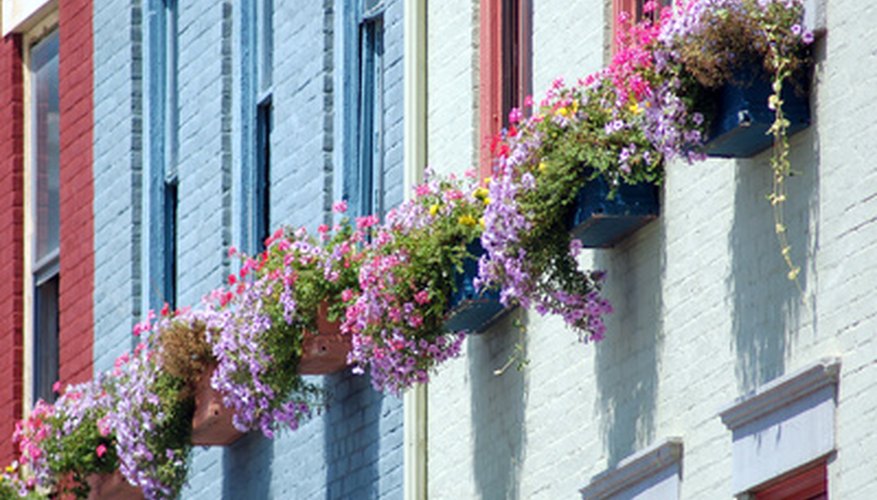 Whether your window looks out over a country meadow, a suburban yard or an urban streetscape, a window box can add color, texture and style to your view. Because of the sometimes challenging environment posed by location and container size, choosing the best plants for window boxes requires some planning, but the results are worth the effort.
Color
Flowers provide color in every imaginable hue. Petunias (Petunia hybrida) are available in many colors and their trailing habit makes them a good choice for containers. With regular trimming, petunias bloom all summer and they are, according to the University of Minnesota Extension, "amazing in hanging baskets and window boxes." Consider including verbena (vervains), a plant rated "best" by the University of Tennessee due to its "uniform habit, compact, profuse blooming, and showy color." Verbena grows quickly and produces large clusters of pink blooms.
Ivy geraniums (Pelargonium peltatum), are a common plant in the dramatic window boxes in Switzerland and are becoming increasingly popular in the U.S. Linda Naeve, of the department of horticulture at Iowa State Extension, admires these plants because they "become a mass of bloom trailing two feet from a window box, even on the north side of a house."
Texture and Shape
Flowers are not the only way to add color to a window box. Clemson University Cooperative Extension recommends the polka-dot plant (Hypoestes phyllostachya) for its foliage and white or pink flowers. It is also durable and drought resistant. Trailing vines add visual interest to window boxes. David C. Zlesak, University of Minnesota Extension educator, enjoys the dramatic combination of sweet potato vines "with trailing verbena and bacopa," although the planter needs to be roomy enough to accommodate a full grown sweet potato vine.
Herbs
Window boxes can be practical as well as decorative. Frederique Lavoipierre, a gardening expert at Fine Gardening magazine, points out that "window boxes are perfect for growing culinary herbs." The combination of the window box's confined space and excellent drainage allow culinary herbs to thrive. Her favorites include mints, basils, thyme, winter savory, rosemary, sage, lavender, and sweet marjoram. She also grows sage, oregano, bay and fennel.