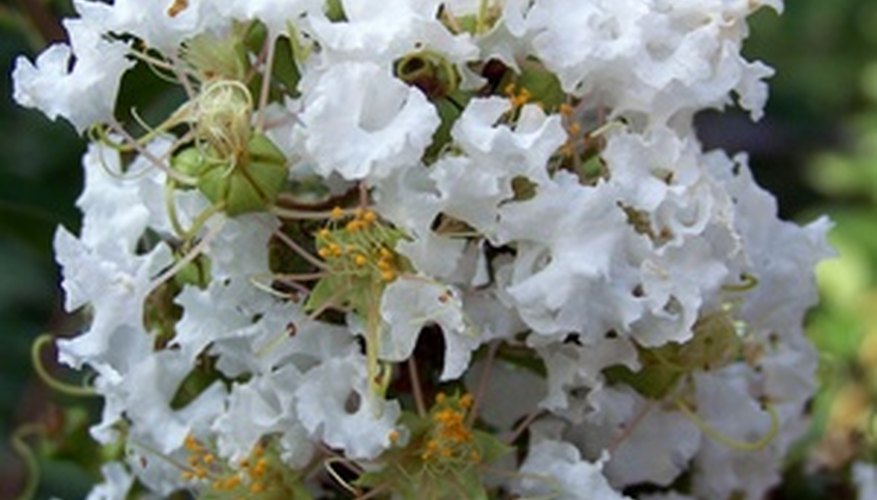 Finding a small tree that flowers in the heat of summer can be a challenge for gardeners. Small trees, or those that mature no taller than 20 to 25 feet, fit better into yards and courtyard gardens with limited space. Pruning away the lowermost branches on some large shrubby plants creates a more traditionally-shaped small tree as well.
Crape Myrtle
Widely seen in the heat of July across the American South, the many varieties of crape myrtle (Lagerstroemia spp.) warrant consideration as decorative dual-purpose flowering shade trees in USDA hardiness zones 7 and warmer. Scores of varieties, called cultivars, grow under 20 feet in mature height, each with different flower color tones that range from white to pink, violet and red. Smaller growing tree-like cultivars include: Carolina Red, Catawba, Comanche, Consetoga, Potomac, Seminole, Lipan, Hopi, Biloxi, Sioux, Pecos, Osage, Yuma, Zuni, Peppermint Lace, Pink Velour (also known as Whit III), Raspberry Sundae (or Whit I), Tonto, Regal Red and Dynamite (or Whit II).
Chaste Tree
Growing in the range of 10 to 15 feet, chaste tree (Vitex agnus-castus and Vitex negundo) bear lavender to blue-violet, spiked flowers on branch tips in early- to- midsummer. Removing lower branches ensures a classical small tree habit. These prosper in USDA zones 6, 7, 8 and 9.
Chinese Stewartia
Slowly growing to a mature size of 15 to 25 feet, Chinese stewartia bears fragrant white flowers sporadically across late spring and well into midsummer. Plant this ornately barked tree in USDA zones 5, 6 and 7.
Harlequin Glorybower
Summer's Dog Days find pink buds and starry white, fragrant blossoms across the canopy of harlequin glorybower (Clerodendrum trichotomum). Following the blooms, persistent blue and red fruiting bodies, resembling flowers themselves, will develop. Grow this species in USDA zones 7, 8 and 9.
Franklin Tree
Now extinct in the wild, Franklin tree (Franklinia alatamaha) is a finicky tree, requiring a perfectly moist but well-draining acidic soil. The five-petaled white blossoms release their fragrance from midsummer through earliest autumn. Grow in USDA zones 5, 6, 7 and 8.
Seven-Son Flower
Ten to 20 feet tall at maturity, seven-son flower (Heptacodium miconioides) produces fragrant, small white flowers in late summer that blush their sepals rosy pink across the autumn. From China, this plant grows well in USDA zones 5, 6, 7 and 8.
Nirrhe
In North America, this small tree prospers along the Pacific Coast's cool and moist climes. Nirrhe (Eucryphia glutinosa) hails from Chile, reaching mature heights of 10 to 25 feet. Four-petaled, fragrant white flowers appear in mid- to- late summer above the glossy, very dark green leaves. Grow it in USDA zones 8, 9 and 10 in consistently mild year-round climates.
Japanese Clethra
The exfoliating bark of the Japanese clethra (Clethra barbinervis) yields to the glory of the drooping white flowers in mid- to- late summer. A moist soil and protection from hot summertime sun helps this plant grow well in USDA zones 5, 6 and 7.
Sourwood
The red fall foliage display makes sourwood (Oxydendrum arboreum) a favorite garden tree, but don't forget about the fragrant, finger-like clusters of urn-shaped white flowers in midsummer. Slowly growing to 20 to 25 feet in height, plant it in USDA zones 5 htrough 9.
European Elder
The European or common elder (Sambucus nigra) grows taller than the North American elderberry bush. The elder blooms in midsummer with white, flattened sprays and looks tree-like when lowermost branches are removed. It grow 10 to 20 feet tall in the cool summer regions across USDA zones 5 and 6.
California Buckeye
A lovely California native tree, the California buckeye (Aesculus californica) forms a round canopy with height and spread of 15 to 20 feet. Cylindrical clusters of fragrant white blossoms dot the tree in early to midsummer. Grow it in USDA zones 7 through 9 where summer humidity is not high.
Leatherwood
Also called swamp cyrilla, leatherwood (Cyrilla racemiflora) becomes a gnarled, contorted small tree that bears pendent, white, finger-like flower clusters with fragrance. It prospers in moist soil areas across USDA zones 6 though 11 and is tolerant of hot summers and high humidity.