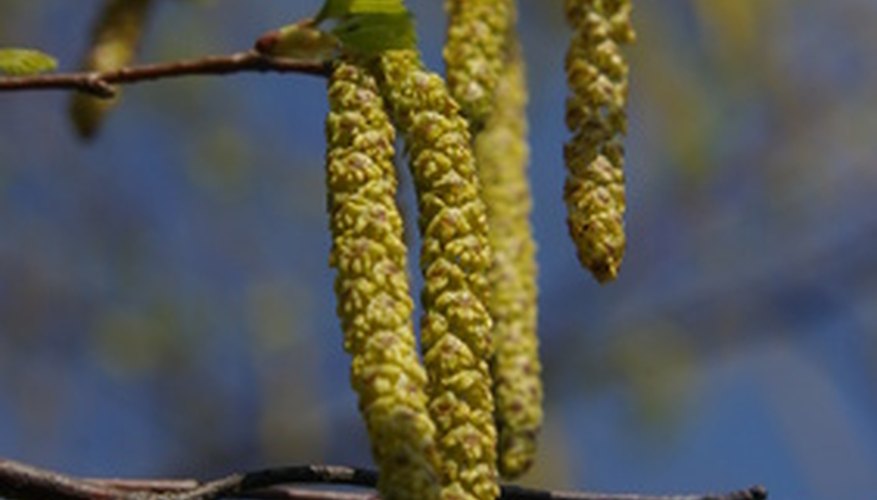 Birch in the spring. image by Oksana Pyrogova from Fotolia.com
Varieties of the European white birch (Betula pendula) produce hanging or weeping branches, making a soft-looking, architecturally graceful tree in the yard, park or mixed border. Their leaves remain green, yellow or burgundy-purple. This species is susceptible to the bronze birch borer, often making it a short-lived tree, especially in regions with very warm summers.
Green-leaf Varieties
Most European white birch trees bear green leaves, but with varying shapes or textures. 'Laciniata' grows deeply cut 2-inch green leaves upon branchlets with an exceptionally weeping habit while the similar 'Dalecarlica' grows 3-inch leaves with shallower cuts. Both have foliage resembling a blend between oak and maple leaves. Variety 'Gracilis' also produces cut leaves on weeping branches that are so numerous and clustered they look like brooms. 'Youngii,' called Young's weeping birch, becomes a mushroom-like dome at a mature height of 25 feet and it lacks any upright central leader branches. By contrast, 'Tristis' bears dissected leaves on an upright, slender trunk with obviously drooping white branches.
Purple-leaf Varieties
The natural variation of this species, purpurea, tends to be plagued by bronze birch borer and grows less vigorously than the wild green-leaf types. Its ornamental beauty surpasses green-leaf types because emerging spring leaves are blushed purple and slowly turn to deep green in summer. Horticulturists selected plants that demonstrated more intense, consistent foliage colors and assigned varietal names such as 'Purple Splendor,' 'Burgundy Wine,' 'Scarlet Glory' and 'Monte,' which goes by the trademark name Purple Rain. The purple to red foliage contrasts the white bark exquisitely.
Yellow-leaf Varieties
Even though yellow tones dominate all European white birch tree foliage in autumn, one variety named 'Golden Cloud' produces yellow to yellow-green foliage naturally. Foliage is most yellow where summers are cool, in the United States the foliage tends to be more green in warmer, more humid summers.
Variegated-leaf Varieties
Lacy green leaves with creamy white edges grow upon the 'White Edge' cultivar. Up close each leaf is diamond-shaped. 'White Edge' grows 20 to 30 feet tall, has an upright shape with arching branches that develop green catkins in the spring.
Dwarf Varieties
Selection 'Trost's Dwarf' bears deep green leaves that look like threads or paper ribbons. It becomes bushy and is only 3 to 4 feet tall at maturity. Use it as a focal point in a foundation bed or rockery surrounded by groundcover plants for a dynamic display.