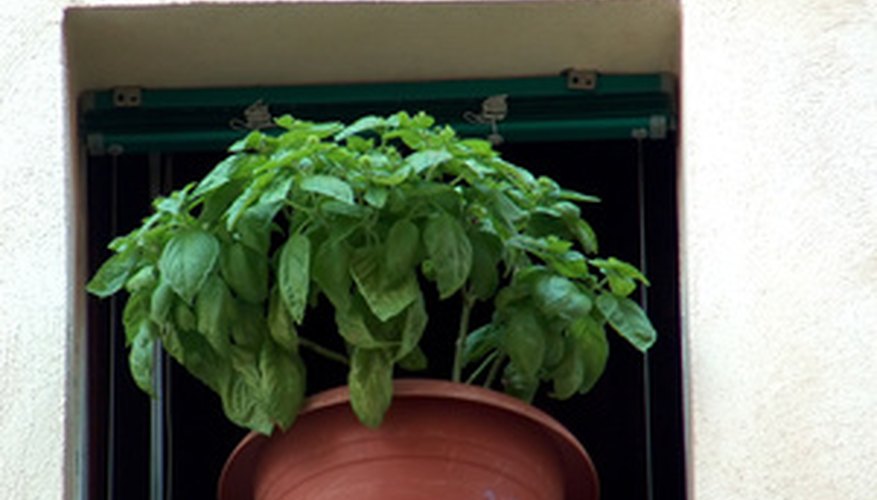 Herbs are among the easiest plants to grow because many of them are considered weeds. Even culinary favorites such as basil and dill often reseed themselves in poor or rocky soil without help from humans. Because many herbs are annuals that thrive in poor soil, they often don't require you to fertilize them. If you start your herb garden by adding organic amendments like compost and other rotted plant materials, your herbs will thrive throughout their entire summer growing season. Packaging herbs, whether fresh or dried, is another easy part of growing and enjoying herbs.
Growing and Packaging Herbs
Mix any type of compost into your planting area or fill containers with a standard potting soil if you want to grow your herbs in pots. For every square yard of garden space, toss at least one gallon bucketful of compost into the soil with your shovel or spading fork. Water the area with a sprinkler for at least 30 minutes before you plant.
Acquire starter herb plants. Most herbs are available in 3 or 4 inch nursery pots--this makes them easy to plant because all you need to do is take them out of their pots, loosen the roots a bit if they are rootbound and then dig small holes about 6 inches apart with your trowel. Set each plant into a hole, pat the soil gently around its base and then run your sprinkler again for about 15 minutes. If you want to grow your herbs in pots, choose individual containers at least 8 inches wide and 6 inches deep. Fill them with potting soil and then scoop out enough soil to make room for the plant's root system. Set the plant into its pot and then pat the potting soil down around its base. Water as you would for plants in the ground.
Package fresh herbs by pinching off the growing tips, including flowers if there are any, after the morning dew has evaporated. Rinse them with clean, running tap water and then pat them dry in a towel. Gently place the sprigs into a plastic zipper bag, seal it and then store them in your refrigerator--they will keep fresh for several days.
Dry herbs for future use by harvesting either growing tops, including flowers, or by pulling entire plants at the end of the growing season in fall. Tie small bunches of tops together with string or tie string to the base of entire plants, leaving enough at the ends to tie to a clothesline. Hang your harvested herb tops and whole plants on a line in a warm, dark, dry, well-ventilated area for about one week. Check your drying plants after seven days--if the leaves feel crunchy and they crumble when you rub them between your fingers, they are ready to store.
Package dried herbs by stripping the dried foliage from the stems and branches with your fingers. Transfer dried plant material to plastic zipper bags or mason jars, seal well to eliminate as much air as possible, and be sure to label the contents. Watch your bags or jars for a few days to make sure no condensation of moisture begins to occur--if this should happen, remove the herbs and dry them for several more days by spreading them on a screen in a warm, dark, dry, well-ventilated area.