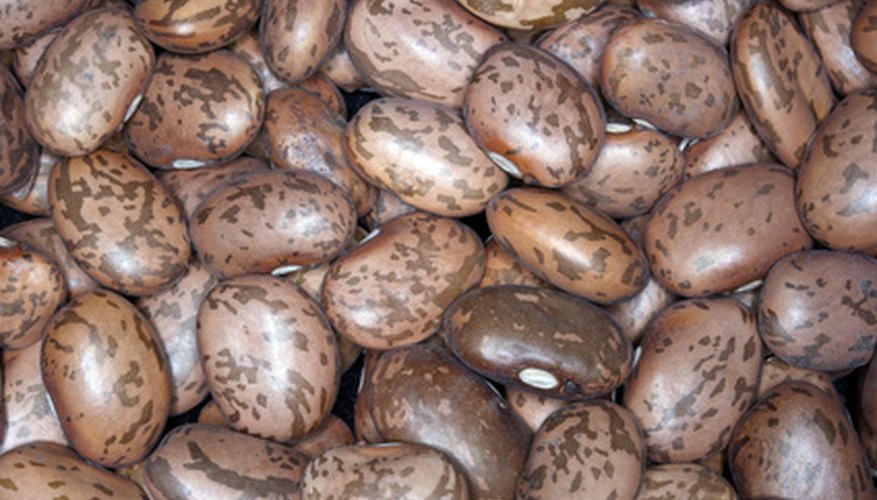 Pinto beans take longer to harvest than other non-dry beans, making them suitable for growing in Louisiana's warm climate. Originally found growing wild in Central and South America, they spread northward into Mexico and the continental U.S. once they were domesticated. They have a distinct, mottled color and are a good source of fiber and protein. Often used in southwestern dishes, they remain an important food crop in the U.S. Easy to plant and grow, they can be harvested either when the seed pods and the plant are completely dry, or before then.
Buy a $10 soil test kit, provided by an agent at your parish's Louisiana State University AgCenter Extension office, and use it to collect and submit a soil sample from the area where beans will be planted. Find the office nearest you by visiting www.lsuagcenter.com. Follow agency recommendations for soil amendments needed to grow pinto beans, which need nitrogen and do not grow well in soil with an acidity, or pH, above 8. Buy pinto beans, taking care to note how long they will take to fully mature; many varieties take at least 90 days to mature, and some take more.
Plant pinto beans in fertile, well-drained soil, avoiding southern Louisiana alluvial spots that usually remain swampy or marshy. Ensure the soil temperature is between 70 and 80 degrees Fahrenheit, which does not take long in Louisiana considering that USDA zones 8 and 9 are usually frost-free by early April and mid March. Pick a spot that receives full sun, and with a hand cultivator rake and break up soil and larger clods. Dig a shallow hole with a trowel and plant seeds 1 inch deep if soil is heavy and compact, or 1 1/2 inches deep in lighter, sandy soil. Plant seeds 2 to 4 inches apart in rows that are 2 to 3 feet apart.
Water new seeds and provide some additional, regular watering in the rare case that Louisiana's warm, humid climate does not offer it. Do not allow beans to remain soaked, because waterlogged soil can disrupt proper seed germination and plant development. Water plants about once or twice each week early in the morning.
The Louisiana State University AgCenter suggests applying organic mulch, like lawn clippings or pine straw, after plants have sprouted above the soil surface to prevent weed growth and prevent pods that touch the ground from rotting. Or, use shallow, shaving strokes with a hoe to release weeds growing around pinto bean plants, taking care not to damage the bean plants' shallow roots.
Harvest when pods are plump and full, and pods are still green, to eat as fresh green beans. Stop watering plants about two weeks before harvest for green beans. Harvest dry beans when pods are brown and the majority are yellow, indicating seeds are completely dry.