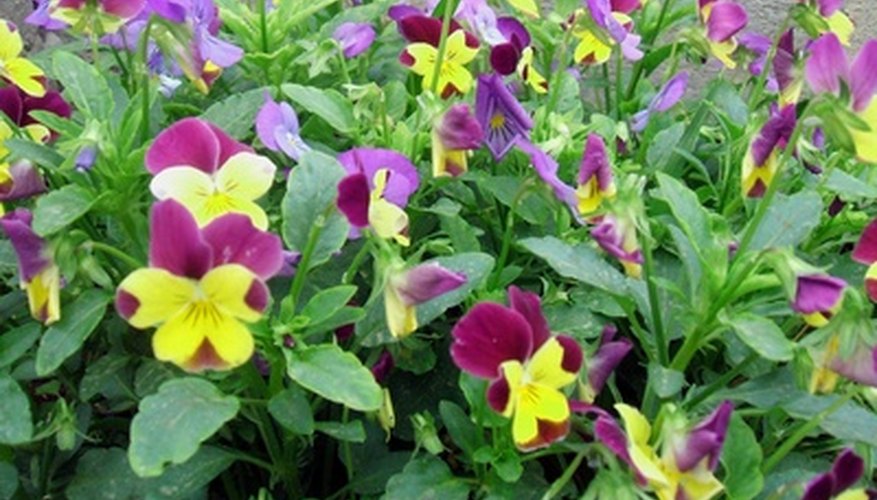 Pansies are small plants that flower in most parts of North America, including United States Department of Agriculture (USDA) hardiness zone 4. Pansy blossoms are rounded and have five petals. They flower in a range of colors, including red, purple, apricot, blue, white, pink, bronze, and many others. Pansies grow very well in zone 4. Pansies rarely grow taller than 9 inches tall and wide. They grow on numerous green stems and have oval or heart shaped notched leaves.
More Info about Hardiness Zones
Hardiness
Pansies have a reputation as a flower that lasts only a month in the spring. However, according to Better Homes and Gardens, pansies can sometimes winter over in places as cold as zone 4. By planting your pansies in the fall in zone 4, they will bloom earlier and more prolifically than if you plant them in the spring.
Fall Planting
The key to your pansies surviving the winter in zone 4 is to plant them as early as possible in the fall. The more established your plants are, the more likely they are to survive the winter. Plant your pansies in September, if possible, to give them the most time to establish.
Hardy Varieties
Pansies with small- and medium-size flowers tend to overwinter better than pansies with large flowers. Hardier varieties include, among others, the following varieties: Sky, Icicle, Crystal Bowl, Maxim, Skyline, Universal, Presto, Bingo, Delta and Accord. There might be other varieties bred for your particular area, so check with your local county agricultural extension or nursery for other recommendations.
Soil
Pansies do best in soil that drains very well. In some cases, pansies winter over in zone 4 only to die because of oversaturated soil in the spring. Make sure your soil drains well.
Light
Pansies require good light but can thrive in partial shade. Plant your pansies in a place where they will get full morning sun. The more sun you can give your pansies, the more they will thrive.