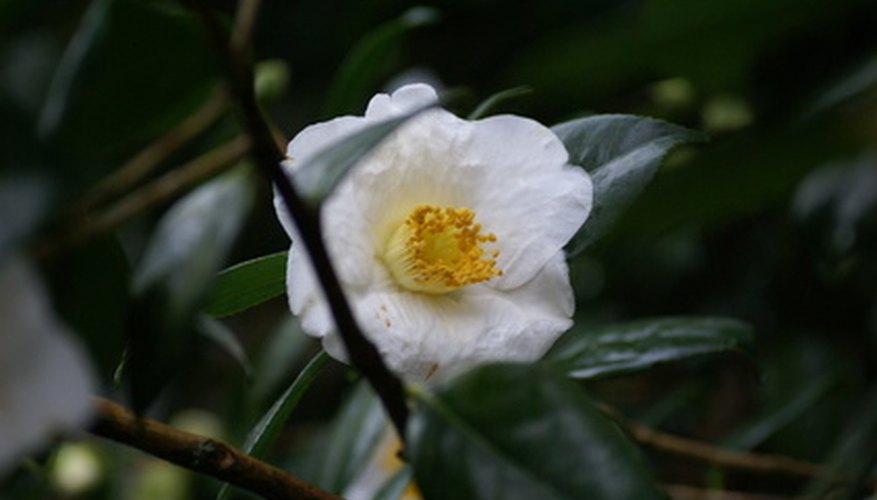 Camellias are flowering perennial plants that produce full, showy flowers. Camellia sinensis is prized for its foliage more than its blossoms. Green, white, black, and red teas are made from the leaves of camellia sinensis. The plant is native to Korea, China, and Japan. Growing camellias in Texas requires some preparation before planting.
Plant your camellia in an area that receives sunlight in the morning and shade in the afternoon. This is typically on the eastern side of your home, with the southern side of the home being second best.
Dig a hole in the ground 2 inches wider and 6 inches deeper than the camellia's container. Discard the soil you dig out of the hole. Use a wheelbarrow or large container to mix gardening sand and peat moss at a ratio of 1 part sand to 3 parts peat. According to Jerry M. Parsons, retired professor and extension horticulturalist, this mixture gives the camellia the drainage and acidity it needs to grow for several years. Put 6 inches of the mixture in the bottom of the hole.
Remove the camellia plant from its temporary container. Shake the potting soil from its roots. Place the camellia in the hole, and fan its roots out over the sand and peat mixture.
Fill in the hole with more of the sand and peat mixture. Use your hands to lightly tamp the soil down around the plant.
Water thoroughly so that the soil is completely saturated, and there is sufficient water to wet the soil 15 to 18 inches deep. Parsons says camellias watered deeply in this manner require waterings only every 10 to 14 days, during the hottest months.
Things You Will Need
Gardening sand

Peat moss

Shovel
Tips
Buy a camellia plant from a reputable nursery. Choose a specimen that looks strong and healthy.

Lift the lower leaves to check for indications of fungal infection (gray spots on the soil, black spots on leaves).

Tug lightly on a couple of leaves; if they fall off easily, move on to inspect another plant when you're looking to buy.