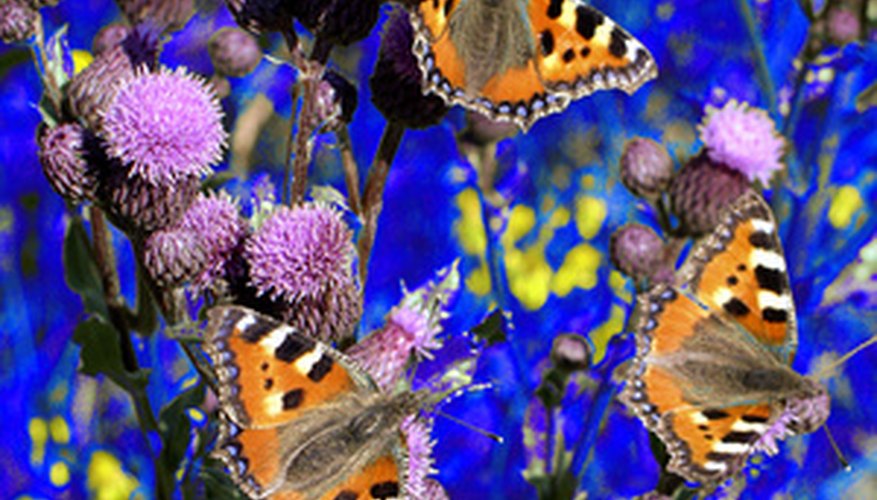 Landscaping is an important part of making a home attractive. It also serves the practical purposes of providing privacy, shade and blocking unwanted views. Flower beds add color to an otherwise mostly green vista and can serve as a focal point. Combine perennials and annuals for a garden that starts off blooming and keeps right on going.
Butterfly Garden
Butterflies announce that warm weather has finally arrived. Plant a variety of flowers and heights. Bigger butterflies prefer taller plants and smaller butterflies like shorter plants, according to Julie A. Martens, author of "Butterfly Banquet." Plant nectar-rich flowers in a variety of colors. Good choices are columbine, hissop, bee balm, coneflower and of course butterfly bush.
If you'd like to watch the transformation from egg cases to caterpillar to chrysalis and back to butterfly again, include plants that butterfly caterpillars feast on. For example, the monarch caterpillar eats only milkweed. Swallowtail caterpillars eat plants from the carrot family.
Birdbath Flower Bed
Birds frequent gardens which have a ready supply of food and water for sipping and bathing. Birds like robins are mainly insect eaters and do clean-up duty of pesky critters in the garden as an added bonus. Place a birdbath in the center of a circular flower bed. Keep it away from low hanging branches so cats don't pounce on the birds as they bathe.
Surround the bath with daisies, miniature roses and lobelia. Attract hummingbirds, which love to take baths, by planting red and pink flowers. Penstemon and snapdragons are good choices. Place a bird feeder in the bed but away from the birdbath so droppings aren't a problem. Keep the birdbath full and you'll have feathered friends visiting all summer long.
Patio Landscaping
Finish the look of a patio by landscaping it just as you would any other part of your yard. If privacy is needed, add vines growing up a trellis. Shade an open work patio roof by planting grapes to grow up and over the roofing. You'll get shade and tasty fruit. Lots of plants will thrive in the shade provided. Try hostas, inpatients and begonias. During the summer consider moving houseplants to the patio. They'll benefit from the warm breezes. Make sure they stay in the shade. Most houseplants originated in the tropics and don't like full sun. Edge the patio with flower beds. The beds segregate the patio from other areas of the landscaping.