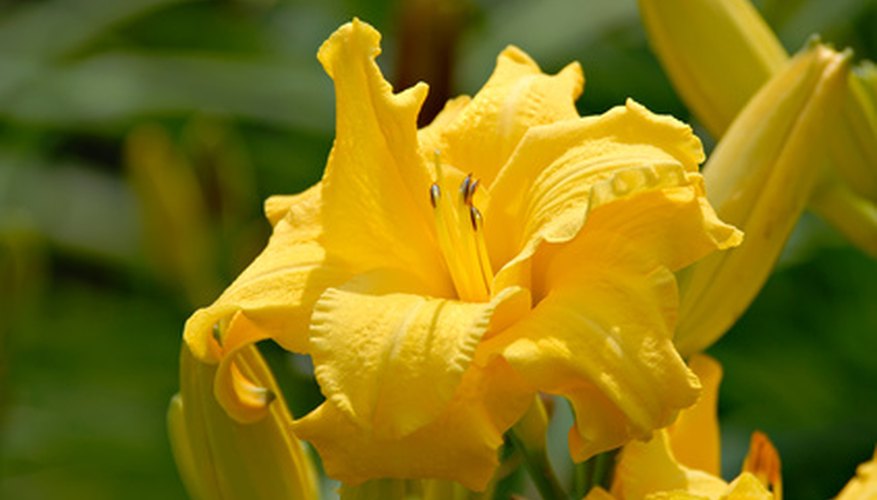 Daylilies are desirable for their ease of care, beautiful showy displays of color and for the fact that many varieties spread every year, according to Mary H. Meyer, an assistant professor with the University of Minnesota. They can grow in the shade, sun, cold or hot weather and, although each bloom lives just for one day, they will continue to put out new flowers all summer long. A number of cultivars are noted by Connecticut daylily grower Bloomfields Farm, as having longer periods of bloom than other hemerocallis varieties.
'Carol Sing'
'Carol Sing' is a variety that is not well-known among home gardeners, so choose this daylily if you want something unusual and long-lasting. The flowers are large--6 inches--and bright orange with a yellow stripe down the middle of each petal. The plants can grow as large as 40 inches. 'Carol Sing' is a late-season bloomer and will flower from early summer though early fall.
'Camden Gold Dollar'
'Camden Gold Dollar' is an award-winning variety that features ruffled, rounded petals on cheerful yellow flowers. This daylily has staying power, blooming from spring all the way through late fall. The plant can reach heights of 30 inches, with 3-inch flowers.
'Chicago Apache'
This showy, bright-red daylily features 5-inch flowers with crimped petals and can grow to heights of 42 inches. 'Chicago Apache' blooms from mid-summer to late fall and can brighten shady areas with splashes of deep pink or red.
'Late Cream'
White varieties of daylilies are rare, but if you want one that will bloom for longer than most, try 'Late Cream.' This creamy-white daylily has 4-inch flowers and a height of 38 inches. It blooms in late summer through late fall and is an excellent plant for brightening up shady areas or contrasting against brightly colored mums.
'Golden Scroll'
'Golden Scroll' is a long-blooming, golden yellow daylily. The ruffled flowers are 5 inches across and the plant reaches a height of 34 inches. This variety has won numerous awards and is highly fragrant, making this a pleasant choice for along walkways or near the entrance of a house. 'Golden Scroll' blooms from early summer to late fall.