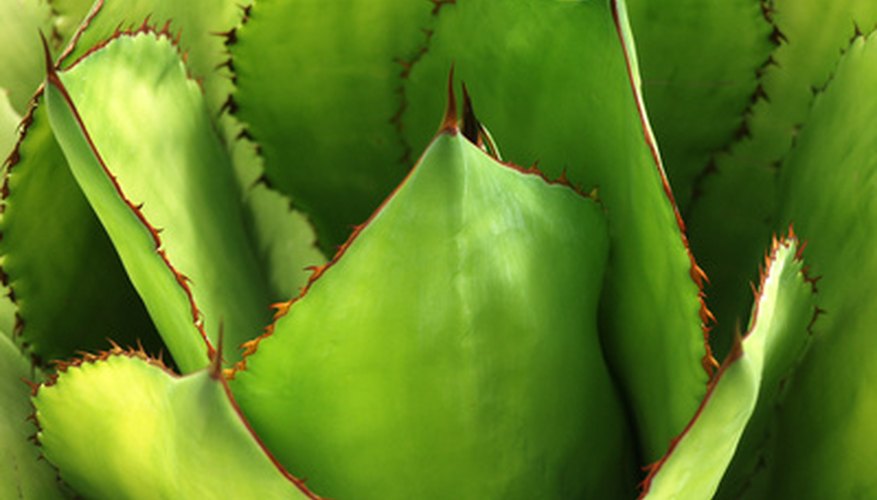 Xeriscaping is the use of plants that require minimal or no irrigation. In arid climates, it has become a popular choice for homeowners, allowing them to have yards that are neat in appearance and conserve water. With thoughtful planning, a xeriscaped yard can have the look of the natural desert. Cacti are often part of xeriscapes in Arizona, but there are many other plants that do well.
Cape Aloe
The cape aloe is a strikingly beautiful desert plant. It has clusters of rose-petal shaped leaves with sharp tips and unusual spikes of orange-red flowers that appear in a candelabra formation during the winter and through the spring. The flowers draw curious hummingbirds into the yard. The plant grows to a height of 5 feet and needs little water and partial shade. The cape aloe was discovered in South Africa.
White Thorn Acacia
This tree brings attractive, finely textured green foliage to a yard. In spring, numerous yellow flowers shaped like little puffballs appear. The tree can reach a height of 10 feet tall and 15 feet wide and does well in full sun. Other varieties of the plant include the tall willow acacia that can reach heights of 30 feet. Its puffball flowers are cream colored. The willow acacia grows very fast and is sometimes used as a privacy screen in Arizona landscaping.
Bougainvillea
The sprawling bougainvillea, which can grow to 15 feet high and 20 feet across, adds dramatic color to a yard with plentiful flowers that come in a variety of colors. Flowers can stay on the plant year round if the winter is warm enough. Native to Brazil, it can tolerate the desert sun of Arizona. The bougainvillea's branches tend to grow wildly and need to be trimmed to keep a symmetrical shape. Care must be taken to avoid the large very sharp thorns of this plant.
Chilean Mesquite
The thick dark green foliage of the majestic Chilean mesquite tree may not seem like part of a xeriscape design, but its water consumption needs are extremely low. The tree is tall and broad, up to 30 feet in both dimensions at maturity. In the springtime the tree is dotted with greenish-yellow flowers. The mesquite tree is a fast grower that will do well in full sun in Arizona. There is some seasonal shedding of foliage with this plant, so maintenance in the form of raking or sweeping may be need to keep the area around the tree looking tidy. The graceful Texas honey mesquite, also tall and wide, is another popular variety of this tree.