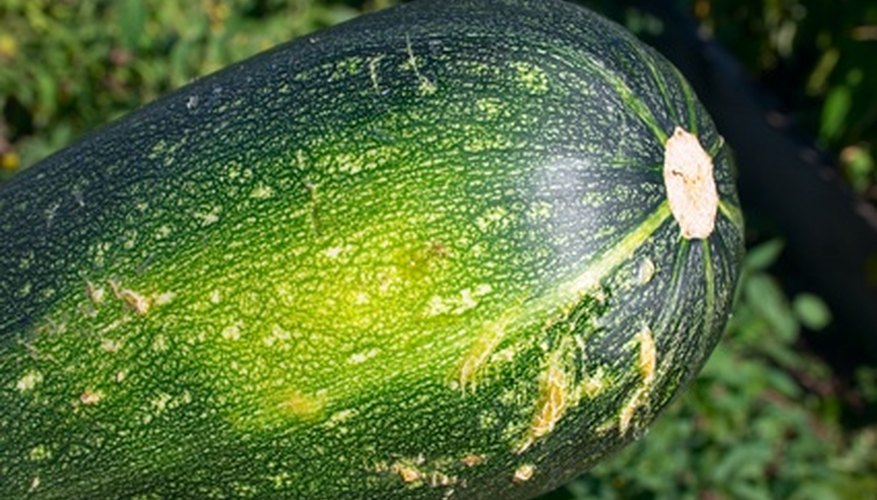 Growing your own zucchini and other vegetables can be an easy, money-saving venture. Children and adults alike can learn from it, and the basics can lay the foundation for growing things that require more attention. For beginners or those seeking fewer challenges with their summer garden, cultivating zucchini with a handful of other hardy, warm-weather vegetable varieties, like tomatoes, beans and peppers, is a simple way to supplement meals and resist buying not-as-fresh grocery-store produce.
Zucchini
Zucchini comes in several varieties. Open-pollinated cultivars, like Black Beauty and Cocozelle, produce dark-skinned, slender fruit, while hybrids like Elite and Embassy are medium-green, prolific producers. According to the University of Illinois Extension, zucchini requires little care other than well-drained soil and regular watering. It grows well if seeds are sown directly into the soil after the danger of frost has passed. Fruit should be harvested when it is no longer than 8 inches.
Weeding
Weeding is essential for successful growth and harvest of zucchini and other vegetables. Frequent weed hoeing or pulling, done carefully around warm-season plants that have shallow roots, like zucchini, prevents weeds from choking out vegetable plants. Mulching deters weeds from growing and helps retain soil moisture. Organic mulch, like grass clippings and pine needles, can be used, as long as no weeds are present in it. Weeds should also be continuously removed in portions of the garden where vegetables are not growing, to prevent seed dispersal where there are plants being cultivated.
Air Circulation
Promoting air circulation around zucchini and other vegetable plants that grow densely is a must, or else excess moisture could cause fungus to grow and pests to take up residence. Proper spaced planting gives plants enough room to grow. Using stakes, cages and wire for taller plants that need support is necessary for proper growth, easier harvesting and air circulation.
Diseases and Pests
Gardeners should avoid handling zucchini and other plants when they are wet, which can promote diseases. Crop rotation will also help reduce some insect and disease problems, according to the University of Tennessee Agricultural Extension Service. The North Carolina State University Extension Service suggests growing disease-resistant varieties. Frequent garden examinations will increase the chances that diseases and pests will be noticed earlier, thereby bettering the chances that they can be controlled or eradicated.
Harvesting
Harvesting zucchini and other vegetables often, when fruit is mature and ready to be picked, will spur more fruit development and plant growth. Fruit that is allowed to grow beyond the suggested time for picking can make plants more susceptible to diseases and pests. This is particularly true of zucchini and summer squash, which many gardeners tend to let grow too large, according to the University of Illinois Extension.