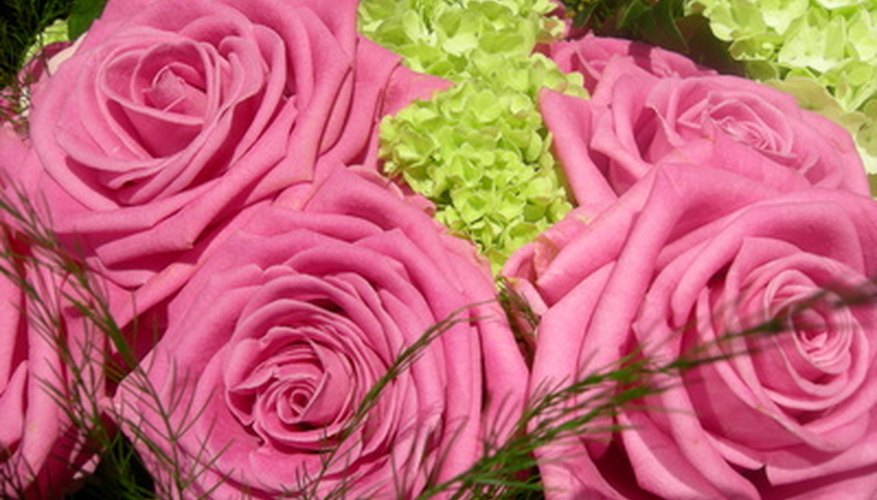 Fresh cut flowers allow you to have a splash of color instantly. Fresh cut flowers can be used to decorate and highlight your tables and interior areas of your home. They can also be used in craft projects or in bouquets for weddings and party events. Most flowers come in one of three different categories for cutting: annual flowers that last only one season; perennial flowers that return yearly; seed plants that have to be propagated and planted yearly. Fresh cut flowers can also be purchased in season through florists and fine retailers.
Annuals
Annual flowering plants are generally obtained in the spring season at nurseries and greenhouses. Many annuals are compact, colorful plants that are used to add color and design to outdoor areas. While many annual flower plants are tender and sensitive to cooler temperatures, some can tolerate minimal handled bouquets and vases for a short-term display. Most annuals have delicate stems and do not withstand being handled a great deal. They work the best as a filler for stand still arrangements. Examples of popular annual cut flowers include violas, flowering cabbage, chrysanthemums, sweet alyssum, petunias, geraniums and coleus.
Perennials
Perennials are flowers that return every year. Plants grow and multiply each year leaving behind a large abundance of flowers available for cutting. Many perennials generally only bloom for a short period of time of a couple of weeks so it's good to cut them when they have just begun to bloom. One popular type of cutting perennial is the rose. Climbers, old fashioned, hybrids and tea are all generally hardy and produce scented blooms in early to mid summer. The most popular cut rose is the tea or long stemmed rose. These flowers come in hundreds of colors and varieties and can be grouped together in bouquets or used as corsages or in decorations. Peonies are also fragrant and bloom in the early spring. They make good cutting flowers. Lilies, such as tiger lilies or stargazer lilies, make nice cut flowers because of their scent and their sturdy stem. Other popular cutting perennials are delphinium with small cup shaped flowers, foxglove which are tubular with bell-shaped flowers and the purple coneflower.
Seeds
Annual and perennial seeds offer a variety of fresh cut flower options and many gardeners grow them to have fresh cut flowers throughout the spring, summer and fall season. Most fresh cut flowers grown from seed can begin to produce blooms in as little as 30 days. Examples of good cut flowers to cut from seed may include cosmos with their bright colored heads in purples and pinks or baby's breath which makes a great bouquet filler. Delphinium with its tall spikes and variety of pastel color options are also good choices. Brown-eyed Susan's, which are similar to the daisy, and Canterbury bells with their tall, colorful blooms and large upside down cups make great cut bouquets. Sunflowers are also a popular option and look attractive in large, late summer floral arrangements.