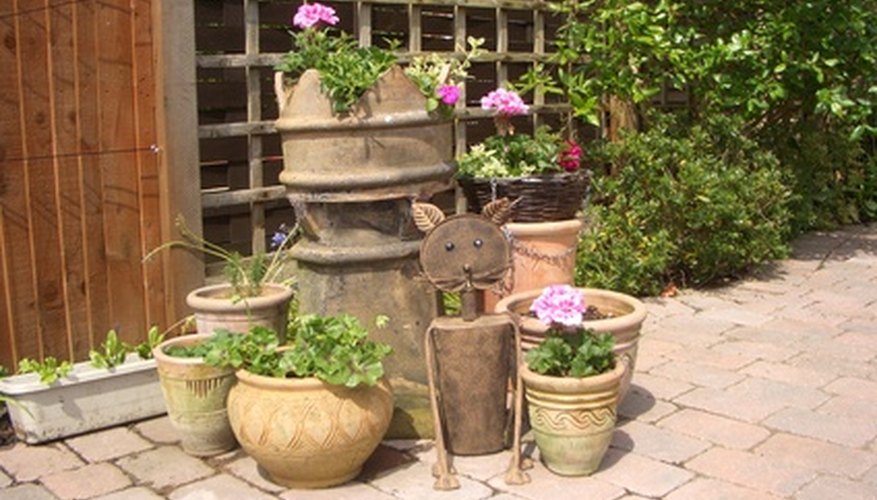 The word "patio" comes to us from the Spanish and means "a court or courtyard of a house or other building; esp., an inner court open to the sky," according to Dictionary.net. A patio could be called a deck, but in California and the Southwest, people frequently call their decks "patios." Patios lend themselves to many decorating applications--think of your patio as a clean slate where you can design your gardening heart out.
Use Attractive Pots
Go with your personal preferences and favorite colors when you plan your patio flower garden. Large terra cotta pots (with drainage holes) give your patio a Southwestern look and feel, and an advantage is that they are instantly color coordinated with flowers of any color. If you prefer glazed ceramic pots, choose colors, styles and sizes that will blend together on your patio.
Choose Plants of Varying Heights
When you go plant shopping, keep your color scheme in mind and purchase flowering plants that will look good in your pots. Also choose some low-growing flowering plants such as pansies or petunias as well as some taller flowering plants, such as foxglove or delphinium. Avoid the urge to over-decorate--sometimes less is more, and simplicity can make a stronger statement than a crowded patio with dozens of pots and a large assortment of flower colors and types.
Place Taller Plants in the Back
To accentuate your plants and make sure each of them is displayed to its advantage, place your largest pots and tallest flowering plants along the far edge of your patio. They might not show up well until they grow larger, but when they send their flower spikes high into the air, they will be visible beyond the smaller plants in front of them.
Don't Forget Hanging Baskets
If you have an arbor above at least part of your patio, it's the perfect place to hang some flowering plants such as fuchsias. The arbor will provide some partial shade, which fuchsias prefer, and the hanging blossoms will add beauty to your patio. The hanging baskets or pots you choose will also add to your patio's décor.