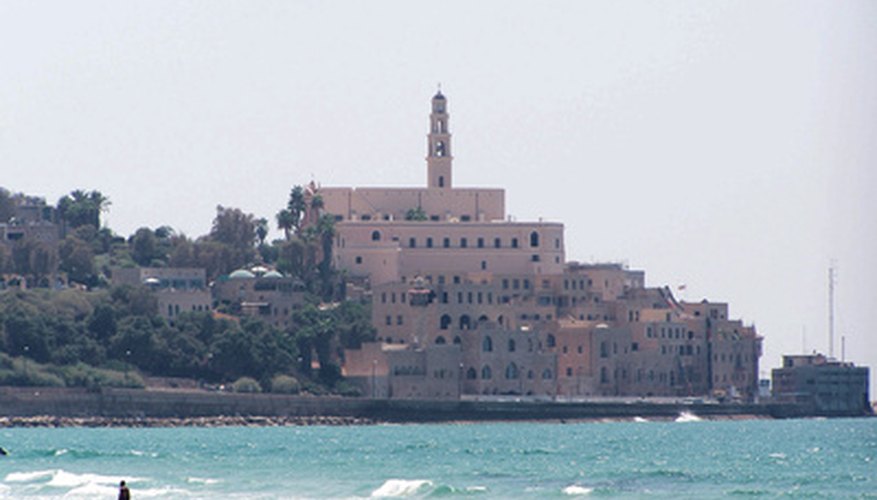 The nation of Israel, only 8,000 square miles in area, sits in extreme western Asia on the shores of the Mediterranean Sea. It contains western coastal lowlands, southern deserts and northern mountains, enjoying a climate with long, hot and sunny summers and cool, wet winters. One species of native pine inhabits Israel, while two exotic species grow over-abundantly.
Aleppo Pine
Aleppo pine (Pinus halepensis) naturally grows in the central and northwestern parts of Israel, in the coastal plain near the Mediterranean. This cone-bearing tree produces pairs of needles that emerge at each node on the branch. Many needles clothe the branches, especially at the tips. This species tolerates salty soils and salt-spray at the coast, maturing at heights up to 70 feet tall with an open, spreading branch structure. The bark becomes reddish brown with age and cracks into attractive scaly patterns.
Stone Pine
Stone pine (Pinus pinea) grows with a distinctively dense, rounded canopy of dark-green needles to a mature height of 35 to 60 feet. The longer, twisting needles occur in tight pairs. It tolerates seaside growing conditions and moist, sandy soils. This non-native pine establishes on wasteland sites after soil disturbance or forest clearing. Stone pines escaped cultivation in the country, being introduced as ornamentals from their native lands of Europe's Iberian Peninsula. The species grows well in all regions with a Mediterranean climate. The bark is plated and orange-brown.
Calabrian Pine
Also known as the Turkish or eastern Mediterranean pine (Pinus brutia), Calabrian pine escaped cultivation and grows across the northern woodlands and disturbed-soil sites in Israel. It survives brush fires thanks to the thick corky bark of brown and powdery salmon. This species grows naturally further north, with it being native to nearby Lebanon and Syria. It appreciates soil conditions with salt. This tree also bears paired needles clustered more densely at branch tips. One specimen in the Hermon Mountains measures at more than 120 feet tall.