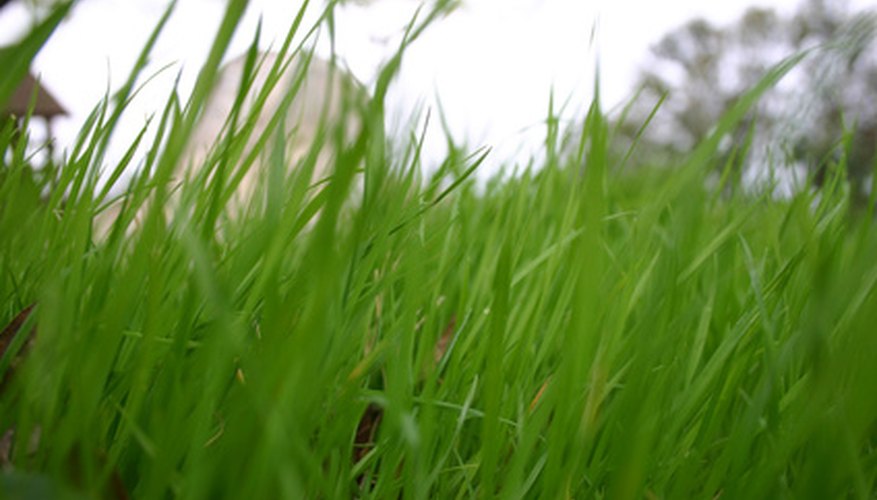 Clay soil is a difficult texture of soil to grow grass in. Clay is densely packed and does not roll easily into a ball. It also has a slippery texture. It is difficult to grow grass in clay soil. Grass needs well-aerated soil to thrive. The best way to grow grass on a clay yard is to amend the soil so that it has a more organic structure and is well aerated.
Rent a lawn dethatching machine to remove the grass in your soil down to the topsoil layer. Set the dethatching lever down to its lowest setting and push it over your lawn in sections just as you would a lawn mower.
Break up your soil to a depth of 6 inches using a rototiller.
Test the soil using a home test kit to determine the pH of your soil. Your soil should have a pH range between 6.5 and 7.0.
Spread a 4-inch layer of soil amendments over your yard. Soil amendments that will improve the structure of your yard include glysophate to aerate the soil structure and organic materials such as finished compost, straw mulch and well-rotted manure to increase the nutrient content and make the soil loamier. Add lime to raise the pH, or sulfur to lower the pH.
Select a grass that is right for your area and your light conditions. Grass that is grown under the conditions that it is suited for will not become patchy and allow weeds or moss to grow in your soil. In warm southern states Bermuda grass grows well in full sun and is drought tolerant. St. Augustine grass grows well in shade, and Zoycia grows well in a combination of sun and shade. For colder climates of the Northern United States, ryegrass, bentgrass and Kentucky bluegrass are good choices.
Rake your lawn so that it is even and slopes away from your home. Lay sod over your lawn in staggered rows starting at a straight edge such as the sidewalk and working your way inward. Roll over your sod with a grass roller to force the roots into contact with the soil. Water your lawn daily for the first 14 days to allow the roots to become established, then gradually taper your watering until you water no more than 1 inch per week.
Set your lawn mower so that you mow the grass longer. This will avoid stressing your lawn. Bermuda grass likes to be mowed 1 ½ inches tall, while St. Augustine likes to grow 3 1/2 inches tall.
Apply a top-dressing of well-rotted compost each spring by distributing a 1 inch layer of compost over the grass. Using a leaf rake, comb your grass until the compost is worked into the grass around the soil line.
Rent a soil aerator and aerate your lawn once yearly to keep the soil from compacting. To use a soil aerator, set the depth that you will aerate your lawn on the machine. Then pass the machine over your soil in the same way you would a lawn mower. Leave the plugs of soil that have been removed from your lawn on the surface. They will dissolve into the lawn and nourish it.
Things You Will Need
Lawn dethatching machine

Rototiller

Home pH testing kit

Glysophate

Finished compost

Straw mulch

Manure

Lime

Sulfur

Sod squares

Garden hose

Sprinkler

Garden rake

Leaf rake

Soil aerator