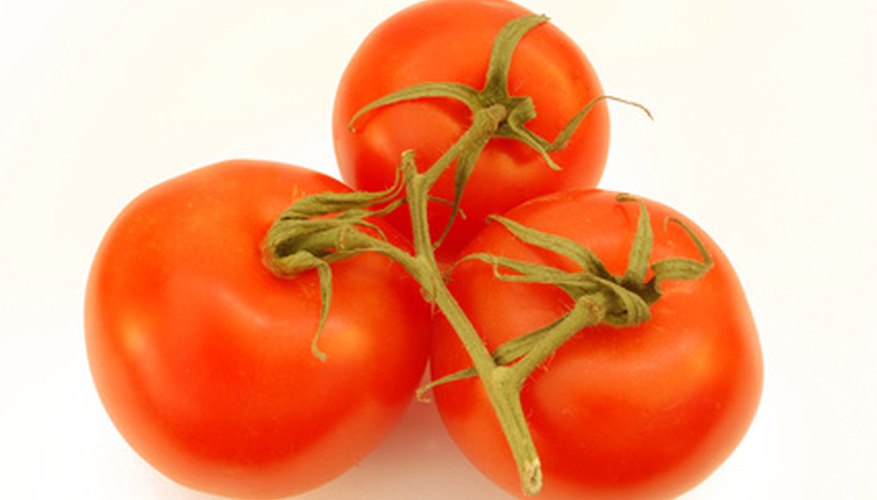 Houston's hot climate and dense clay soil makes growing healthy, juicy tomatoes a real challenge. One way to beat the heat means planting tomatoes in late February or early March to ensure the fruit sets before high temperatures prevail. As for the soil, amend it with organic matter to help the plants create an adequate root system to hold up the tomato plants. All of the following tomatoes, except Wild Texas Tomatoes, require staking or caging to stabilize the plant while encouraging branch growth.
Celebrity
Large tomatoes make Celebrity tomato plants a popular choice in Houston. The plants produce tomatoes 70 days after transplanting into the garden. Make sure to space the plants two to two and a half feet apart. You can also plant Celebrity tomatoes as seeds. Most fruits weigh about eight ounces, featuring crack-free tomatoes that turn completely red. Celebrity tends to be highly resistant to disease and pests, requiring little spray or pesticides.
Big Boy
Big Boy tomatoes feature aromatic and rich flavored fruits, each averaging 10 ounces or more. After transplanting into the garden, the first red, smooth-skinned fruits ripen after 78 days. The plant grows in a bush-like habit, and offers good disease resistance. Big Boy tomatoes first appeared in 1949 as a hybrid developed by the Burpee seed company. With the success of the Big Boy, tomato breeding began in earnest and continues to this day.
Dona
Slightly-flattened and deep red in color, Dona tomatoes offer a pleasant mix of sweet flavor and acid balance. Bred in France, the plant provides mature fruit about 75 days after transplanting. The heavily-producing plant features fruits each averaging about six ounces in weight. The meaty, almost seedless tomatoes offer good disease resistance.
Champion
Mouth-watering, meaty tomatoes ranging in size from nine to 12 ounces make this early-producing plant a good choice. The plants first ripe tomatoes appear about 70 days after planting. The compact plants, perfect for smaller garden spaces, work well in containers, too. Plant the seeds 18 inches apart if grown in the ground. Champion also offers strong resistance to disease.
Wild Texas Tomato
Small but mighty little tomatoes cover the Wild Texas Tomato plant, providing half-inch fruits with excellent flavor. While little seems to be known about the tomato, the sprawling vines grow wild in Texas from seeds the fruits leave behind, so it's possible to find seeds for your garden. The little tomatoes also thrive in Houston's hot summer weather, making them ideal for growing when other tomato plants seem to be fading.