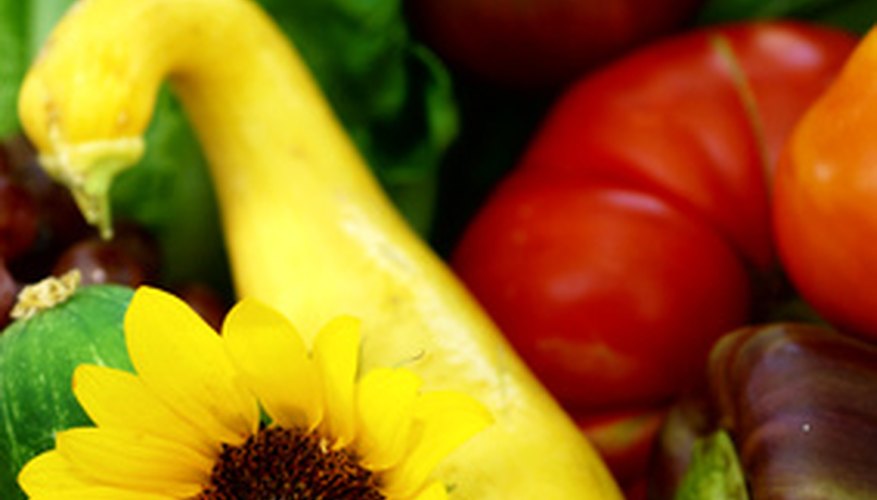 Gardeners in the lower desert elevations of Arizona are blessed with plentiful sunshine and mild winters, allowing them to grow vegetables almost year round. This is the southern part of the state where the two largest cities, Phoenix and Tucson, are located. The soil conditions can be poor, though, requiring the addition of compost and fertilizer to ensure healthy growth of vegetable plants and maximum fruit production.
The arid climate also requires regular irrigation of vegetable plants, particularly during the extremely hot summers. Rainfall is unreliable and sporadic, even in the wetter seasons of winter and late summer.
Early Spring Planting
The danger of frost often passes by mid-February. This is the time to plant cool season crops you want to harvest before the hot weather sets in. Staples of the early spring garden include leafy greens such as chard, spinach and kale. Peas are another popular spring crop. If the winter is unusually cool, gardeners give the vegetables a head start by placing sheets of clear plastic in between the rows to warm the soil. By late March, the soil will be warm enough to support peppers, corn, and tomatoes. Gardeners often choose a faster growing variety of corn, so the plant has time to produce before the summer heat becomes too intense.
Late Spring/Summer Planting
April weather provides ideal growing conditions, warm days and cool nights. Squash, watermelon and cantaloupe can be started at that time. Squash can be replanted every month, allowing for harvesting all through the summer. Squash tastes better when it is small, and picking it at that stage allows the plant to produce more flowers and fruit. Cantaloupe and watermelon both have spreading vines that take up considerable space. Consider planting them where they can spread over unused areas and won't compete with the other vegetable crops. Straw, grass clippings or mulch are often spread on the summer garden to help keep the soil moist. Another strategy for summer gardening is to place the vegetables in an area of the yard that is shaded from the afternoon sun.
Autumn Planting
The arrival of autumn is welcomed by the Arizona gardener, whose summer vegetables have started to show stress from the high temperatures of July and August. In September and October, cool season vegetables make their second appearance in the garden. Broccoli and cauliflower can be planted in late August. Peas and beans planted at that time can begin yielding in October. In September, loose leaf lettuce and varieties of leafy vegetables including mustard greens and spinach can be planted. These are often started from seed in August, in trays or cups that can be kept in the shade during the midday heat. Root vegetables such as carrots and beets are excellent autumn crops as well.