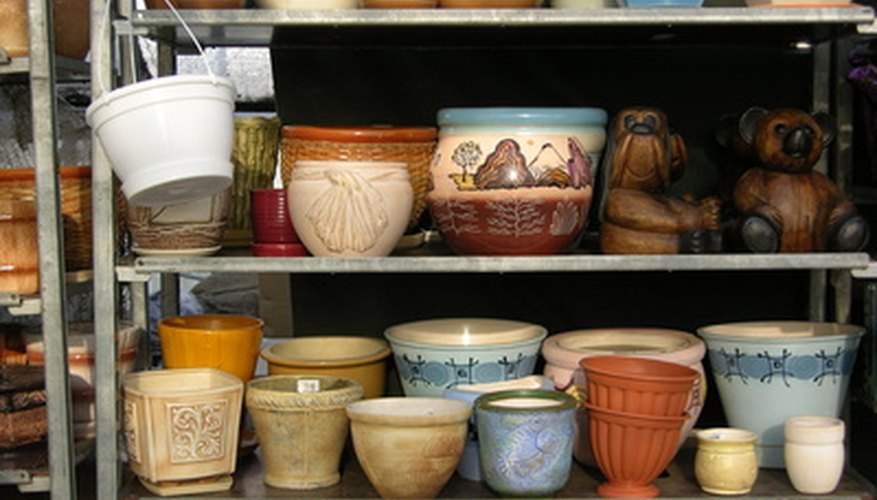 Flower pots can be used to grow flowers, vegetables, trees and shrubs. Almost any flower pot will do as long as the container has drain holes, is large enough to accommodate the plant's root system, and is heavy enough to keep tall plants from toppling the container. The material from which the flower pot is made can be the deciding factor for the best flower pots.
Clay
Orange clay, or terracotta, pots come in a wide range of sizes, from about 2 inches in diameter to 2 or more feet in diameter. Clay pots are porous, meaning the soil will lose moisture through the pot's walls. A porous pot can reduce the chance of root rot from too much moisture. Clay, which is also a base for decorative ceramic pots, is easily broken and should be relocated inside in the winter where outdoor temperatures are consistently below freezing. Clay pots will also retain heat from the sun, which could harm plant roots. Saucers for clay pots are often sold separately with a choice between clay or plastic.
Plastic
Plastic flower pots generally come with an attached saucer that matches the color of the pot. Available in wide range of shapes (round, rectangular, square), sizes, and colors (solid or patterned), there's a plastic flower pot design to meet every taste. Plastic is non-porous, helping to retain moisture in the soil. Plastic also does not retain heat when placed in the sun. Lightweight and not easily broken, plastic flower pots are an economical approach to gardening.
Fiberglass
Fiberglass flower pots shares some attributes of plastic: it is lightweight, non-porous and comes in a variety of shapes, sizes and colors. Fiberglass pots can be designed to mimic hard materials like carved stone, giving the containers a rich-looking, heavy appearance.
Wood
Flower pots made of wood, like cedar, may need a plastic liner or some non-porous fabric to help reduce the chance of the wood decomposing from the moisture. If flowers are planted directly into a wood flower pot, consider the wood to be semi-porous, absorbing some water and releasing excess water.
Wood flower pots could serve as a large container into which small flower pots are placed. Placing smaller pots into a larger container makes the larger container the "saucer" and gives the gardener flexibility with the plants, swapping out a finished bloomer (like spring bulbs) for a new bloomer (like summer annuals).
Metal
Metal flower pots will have coating on the inside to prevent corrosion. The metal container could be made of aluminum, brass or copper, all of which are non-porous. The weight of a metal flower pot will be determined by the size and material from which the pot is made. As with wood, it could be beneficial to use a plastic liner and metal container to hold other flower pots, possibly those made of plastic.
Cement
Cement can be used to create a flower pot of any size. The larger the pot, the heavier it will be. Similar to fiberglass flower pots, cement flower pots can be cast and painted to look like stone. Cement flower pots are non-porous.