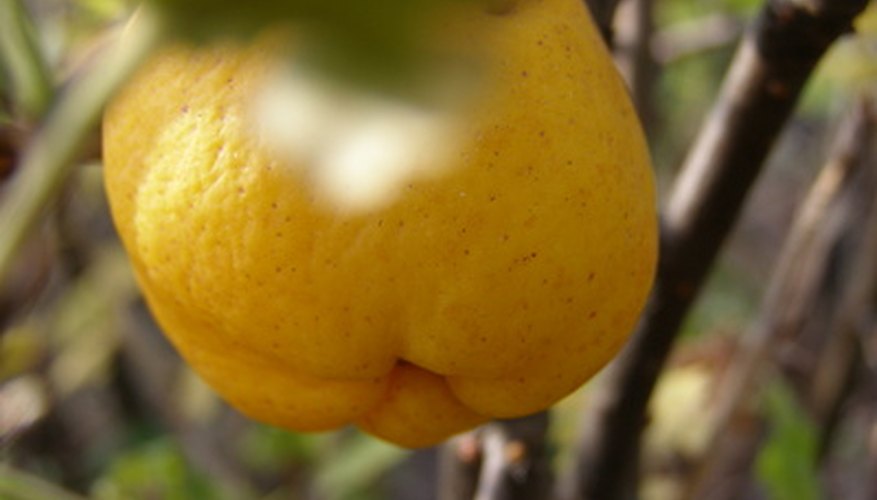 Flowering quince can grow in any backyard areas that can support apple and pear trees. The cultivar commonly called the flowering quince (Chaenomeles speciosa) is different from the Asian quince. The fruit is tart, bitter and almost inedible until after frost. Use the cuttings from an existing flowering quince plant to propagate new bushes, or plant the fruit seeds.
Potential
Scientists in Northern Europe are studying the flowering quince as a possible fruit for domestic production, according to Kimmo Rumpunen of Purdue University. It lends itself to organic gardening methods and is more resistant to cold and disease than the fuzzy Asian quince. The seeds germinate with good results, even 95 to 100 percent, but cuttings are the preferred method of propagation for consistent high-quality fruit. Quince is high in vitamin C and fiber, both desirable qualities for fruit juice.
Seeds
Flowering quince fruits, although irregular in shape and size, consistently produce several seeds per fruit--up to 100 in some varieties. If planted immediately, these seeds easily germinate after two to three months of cold stratification. Seeds planted outside in late winter or early spring will sprout within seven to ten days, and the new flowering quince plant will fruit within five years.
Softwood Cuttings
Growers take softwood cuttings from the flowering quince bush to reproduce plants and to produce a more uniform fruit. They found that the length of the cutting was important as the longer cuttings (10 inches) rooted much better than shorter cuttings, according to report by Rumpunen. In this study, the nurseries took the cuttings during the winter, during the dormant stage of the tree's growth, and buried them in a moistened sand/soil mixture until well rooted. Growing continued after workers transplant the rooted cuttings to regular soil and place them outside. These trees bore fruit within about three years.
Important Factors
The successful propagation of flowering quince seedlings depends on a few factors. Until they are well established, flowering quinces need a south-facing site, free from wind and high enough to escape frost pockets. They grow better on virgin soils free from the fungus that can destroy quince orchards. The soil should be heavy and high in moisture content without too much sand.
Micropropagation
Micropropagation deserves mention although, at present, growers find it too expensive for practical use. Portions of the plant are cultivated in the laboratory after undergoing various cleaning processes. The tissues are cultivated in specific sterilized sugars and hormones to encourage cell growth. Scientists grow the resulting plants in highly controlled nurseries.