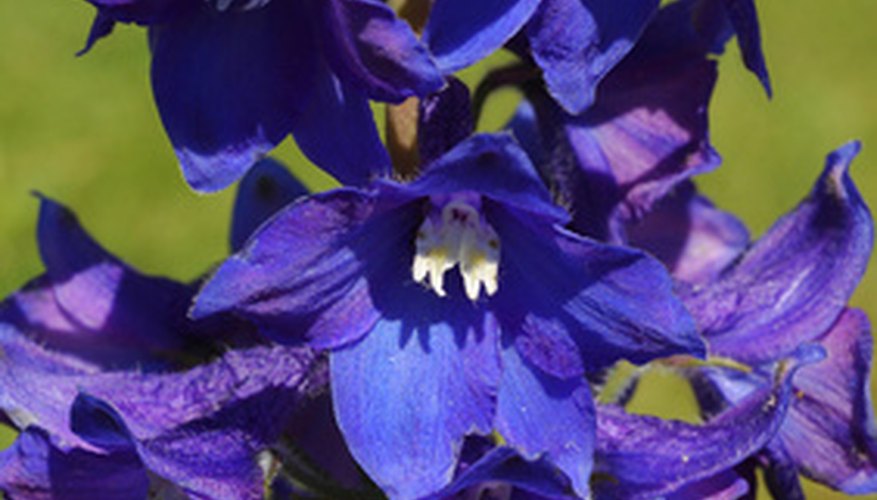 Sun-loving flowers grown among the garden create a showy landscape presence. They provide a burst of color to the landscape and are often long-lasting, shooting up year after year. Full sun blooms prefer well-drained soil but can tolerate a wide range of soil types, including clay and overly dry soils. Adaptable to--and grown in--a wide range of colors, sizes and shapes, sun-loving flowers are a garden must.
Delphinium
Bluebird delphinium (Delphinium 'Bluebird'), a summer-blooming annual flower, requires full sun only to thrive and flourish. Growing 3 to 6 feet tall and 1 to 3 feet wide, the clump-like growth habit on bluebird delphinium attracts butterflies and hummingbirds to the garden. The blue flowers and white centers on bluebird delphinium are large and clustered along one central, tall stem.
Deer-tolerant, bluebird delphinium blooms are ideal tucked along the back of a flowerbed or border for their commanding height. Bluebird delphinium flowers prefer well-drained soil that is nutrient-rich. To promote flowering on bluebird delphinium, deadhead or remove the spent blooms as soon as they are visible. Plant in USDA hardiness zones 3 to 7.
Zinnia
A hardy annual flower, zinnia (Zinnia elegans) have a clump-like form and rapid growth rate. Zinnia blooms grow 1 to 3 feet tall and wide and attract butterflies and other winged wildlife like birds and hummingbirds to the garden. Deer- and drought-tolerant, zinnia flowers grow in a wide range of colors including pink, yellow, purple, red and orange. The blossom forms on zinnia include, double, semi-double and single flowerheads. Sitting atop the tall, upright, bright green stems, zinnia flowers are ideal fresh-cut flowers to grow in a cutting garden. A full sun-loving flower, zinnia blooms grow best in the summer sun. Zinnia flowers require well-drained, fertile soil. Deadhead zinnia blooms to promote a long growing season.
Russian Sage
Russian sage (Perovskia atriplicifolia) is a perennial flower that blooms in mid to late summer. Growing 36 to 60 inches tall, Russian sage requires full sun to grow the light blue flower spikes. Tall and classic, the flowers on Russian sage are ideal grown in containers or nestled along a garden walkway. The gray to green leaves on Russian sage are highly aromatic, especially when brushed against while walking by. Prune back Russian sage after the first frost to promote flowering the following season. Russian sage requires well-drained soils to flourish. Plant in zones 3 to 9.