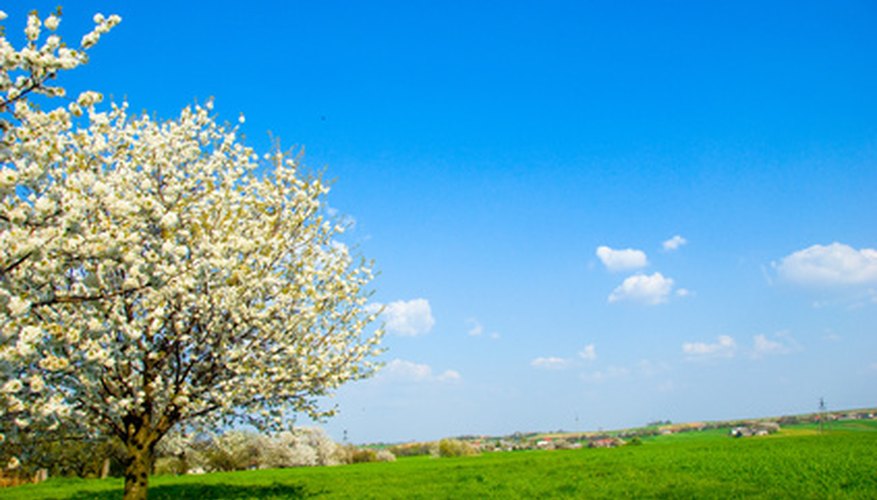 There are many people who live on farm land but do not grow crops. Stable owners, ranchers and breeders are just a few people who may own a large amount of land that is not used for growing food. Keep your large yard looking green and lush without a lot of work with some simple farm landscaping that will benefit your property and any animals you may have.
Sod
Sod are sheets of grass cut into rolls that can be installed directly onto a yard. Sod can be especially useful for the front yard of a farm to provide customers and visitors with an attractive first impression. Consider a sod variety that is drought resistant and low maintenance, such as turf grass. For even less time spent caring for the yard, install sprinklers to water the lawn.
Trees
Medium-sized trees and shrubs can provide color, texture and occasionally fruit to a large farm. Flower shrubs such as holly produce foliage, flowers and berries at various times throughout the year. Heather is a low-maintenance, drought-resistant shrub that produces white fragrant blossoms. Finally, evergreens are excellent for those who prefer to avoid raking up leaves.
Bamboo
Bamboo is a quick-growing and quick-spreading grass that is ideal in both decorative beds and for fencing. Some bamboo varieties are highly drought resistant and can reach as high as 8 feet. When growing bamboo, it is important to keep it maintained to avoid it spreading into unwanted areas.