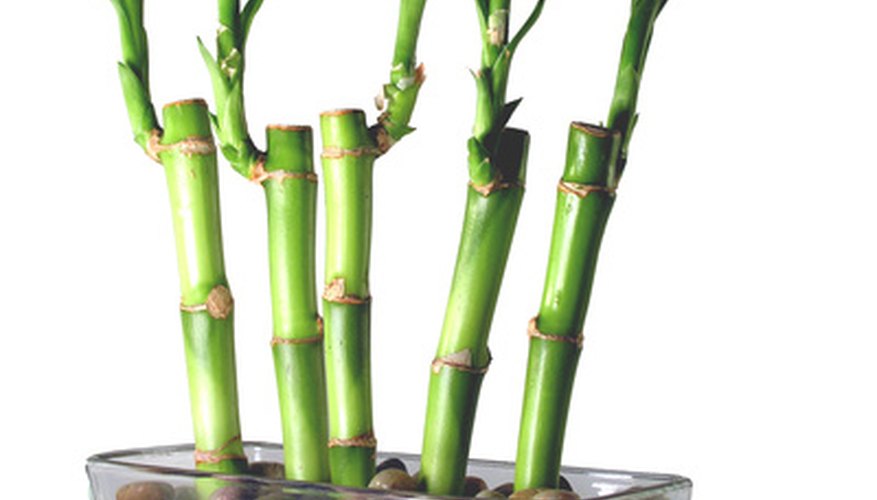 It looks like bamboo, but in truth the lucky bamboo plant is actually a member of the lily family. It grows naturally in the Southeast Asian and African rain forests. The plant's fortitude, strength and quick growth are the reasons it is considered a symbol of luck. Lucky bamboo provides the perfect office plant or house plant if you have a brown thumb, as it is very low-maintenance. It is considered most lucky when received as a gift.
Choose a lucky bamboo plant that appears healthy, with bright green leaves. Steer clear of the plants that have dried yellow or brown leaves, signs of insects or yellow stalks. The soil in the pot should be moist, but not overly wet or dry.
Grow your lucky bamboo plant in water or soil. It may already be prepared either way when you purchase it. If you plant your bamboo in soil, choose a pot that is about 2 inches wider than the plant itself. Use commercial potting soil, on top of a few stones over the pot's drainage hole. Don't plant it any deeper than the original root soil top.
Place your plant in the center of a pot or vase to grow it in water. Pour 2 or 3 inches of stones into the bottom of the container. Fill the container with water, just to the surface of the stones.
Water the soil-planted lucky bamboo plant just to keep it moist. Don't let it dry out or water to a sopping stage.
Clean the stones, container and plant stalks of water-grown plants every week. Remove all the items. Wash the container and stones in soapy water and rinse them thoroughly. Use clear water to wash the bamboo plant bottom. Replace all the items as when you first planted.
Place your bamboo where it will get plenty of natural light, but not direct sunlight. If this is not possible, as in an office situation, the plant will grow well in artificial lighting or partial shade. Its natural habitat is among taller rainforest plants.