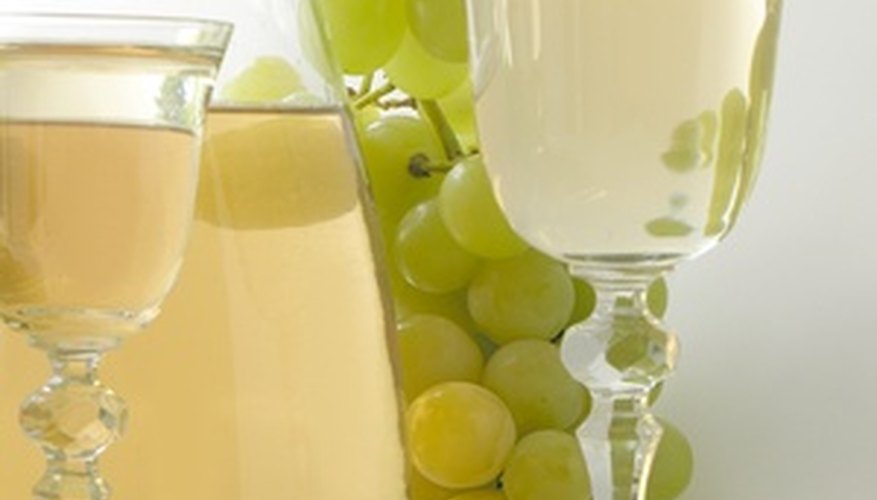 Wine grapes grow well in parts of Texas with elevations above 3,000 feet, including the Trans Pecos and the High Plains. With care and good varietal selection, home and commercial growers in Central Texas and the Hill Country produce excellent grapes. Areas of Texas with high rainfall rates and humidity are challenged in growing wine grapes, since the conditions there favor the development of fungal diseases. Frequent treatment with fungicides and pesticides are necessary to grow wine grapes successfully in south and east Texas.
Select a location for grape plants with full sun and well-drained soil. Deep, sandy-loam soil is best for achieving strong root systems. Make sure you have enough space to align rows with the prevailing wind to promote airflow over the plants. If the area has a slope, locate the growing site near the top with a southern exposure.
Test soil by removing six samples at different locations and depths for a total of one pint. Dry the soil and mix thoroughly. Place the dry soil in a sealable plastic bag and send it to the Texas A&M University Soil Test Lab for analysis.
Soil, Water and Forage Testing Laboratory 2474 TAMU College Station, TX 77843-2474
Request testing for micronutrients in addition to a routine analysis.
Clear the site of organic and inorganic materials. If possible, one year before planting, apply an herbicide such as glyphosate in summer and fall to eliminate perennial weeds.
Till the soil and add amendments recommended by the soil test. The test report will be sent to you in about two weeks.
Set up trellises for training the grapes along the rows. Texas A&M recommends using T-posts for each plant. String wires at 18, 42, 52, and 66 inches from the ground.
Set up an irrigation system.
Select cultivar varieties. Good choices for Texas include Blanc duBois, Orlando, Le Noir, Champanel, and Favorite.
Plant grape vines from late February through April by digging a hole 3 inches deeper than the grape roots. Gently remove the plant from the container and loosen the roots if they are tangled. Place the plant in the hole, backfill with soil, and tap down to remove air pockets. Water the area thoroughly. Space plants 6 to 8 feet apart, or 8 to 10 feet apart if planting multiple rows.
Select the two strongest shoots and stake them in preparation for attaching them to the trellis during the second growth year. Cut and tie each shoot to the stake at least four times during the first growth year. Remove buds from the lower portion of the vine's trunk.
Water the grape plants one inch per week per plant during the growing season.
Prune the grape plants by removing 95 percent of the canes when the plant is dormant just before budding. Leave two buds of second year's growth during pruning. In later years, increase the number of buds that remain on the plant after pruning.
Attach the strong shoots to the lowest wire on the trellis during their second year.
Continue watering, pruning, and training each year. You can begin harvesting grapes within three to five years.
Things You Will Need
Shovel

Plastic bag

Soil test

Glyphosate

Soil amendments, as needed

Irrigation system

Trellis T-posts

Trellis wire

Stakes

Grape vines

Pruners
Tip
Growing grape vines is challenging. Find a mentor to help you get started or join a local vitaculture association. Keep the growing area free of weeds.
Warning
Central Texas vineyards have been infected with Pierce's Disease. Therefore, it is essential to plant resistant varieties if planting grapes there. The disease, which kills vines, is moving westward, so check with your county agricultural agent before making a varietal selection. Do not use fertilizers with weed killing products. Never use fertilizers that contain phosphorous because it can tie up zinc and iron in the soil.
Resources