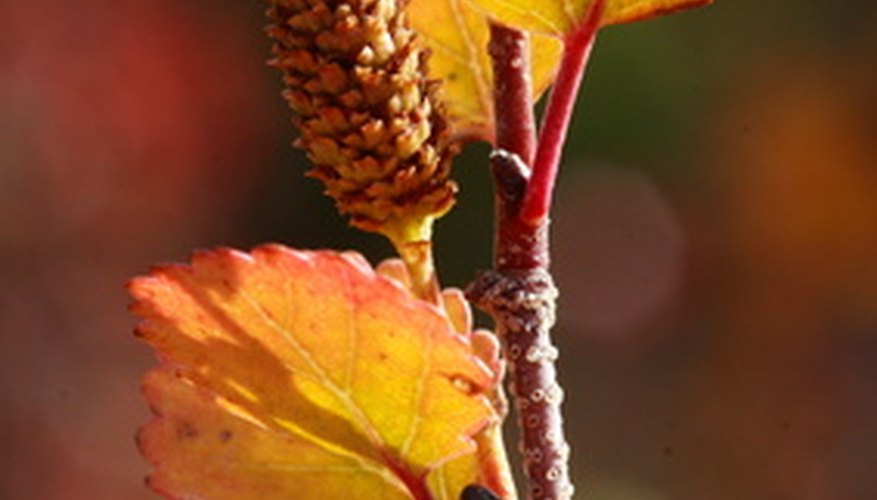 transparence Alaska image by Davy HILLER from Fotolia.com
When most people think of Alaska, they think of its frigid winters and freezing temperatures. It may surprise you to learn that average summer temperatures for "The Last Frontier" are often in the 60s and some areas even reach into the 90s. The drastic change of seasons in Alaska might be hard for some plants to take, but there are some shade-loving perennials that are up to the challenge.
Bunchberry
The bunchberry (Cornus Canadensis) is a spreading subshrub sometimes called Creeping dogwood. It is also is known as the smallest dogwood, since the bunchberry grows to only about 8 inches. Bunchberry has the same familiar oval-shaped leaves of its taller family members, and in late spring to early summer it produces four-petal white or white-pink flowers that give way in the fall to the traditional red berries. The bunchberry prefers acidic soil that is well-drained and a fair amount of shade, since it is somewhat heat sensitive. It is difficult to transplant a bunchberry, but if a piece of rotted log is added to the soil when it is transplanted, it may spread out with underground runners and grow quite nicely.
False Lily-of-the-Valley
The false lily-of-the-valley (Maianthemum dilatatum) is a perennial flower that grows to 12 inches and is most notable for its green, heart-shaped leaves. These leaves typically grow 2 to 4 inches long and have a shiny appearance. In early summer the false lily-of-the-valley produces clusters of small, waxy-looking white flowers on the end of spiked stems. It then produces small green berries that turn red in the fall. The false lily-of-the-valley prefers deep shade to part shade and likes moist sandy soil. It makes an excellent ground cover, but it can be highly invasive.
Lady Fern
The lady fern (Athyrium filix-femina) is a deciduous perennial fern that grows 24 to 36 inches tall and 3 to 7 feet in diameter. Commonly used in hanging baskets and potted plants, it has light green lacy-looking leaves that are 24 to 36 inches long and 6 to 9 inches wide. When used in the garden, the lady fern is often used as a ground cover. It prefers full to partial shade and rich, moist soil. The lady fern is a major food source for the grizzly bear and is also well-liked by elk.
Resources