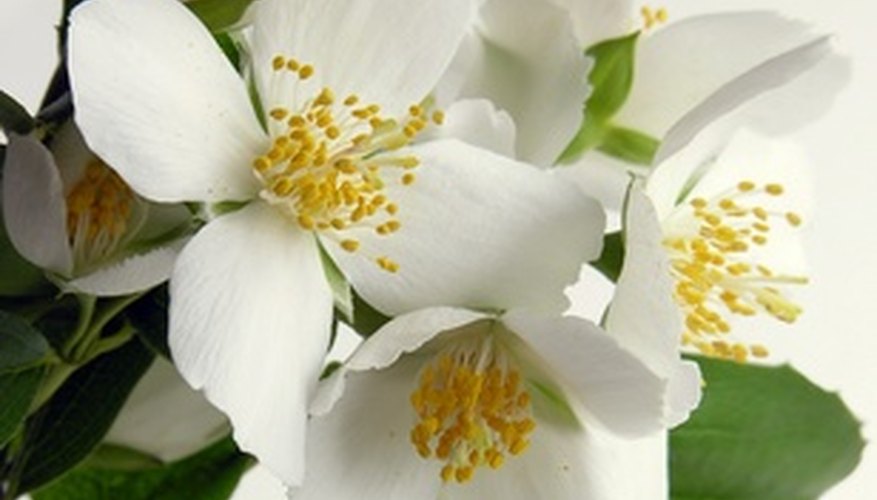 Two major types of shade exist--full shade (where a plant gets less than three hours of direct sunlight a day) and partial shade (where a plant gets three to six hours of sun a day). Plant the shrubs where they will get the sun in the morning or in the late afternoon, avoiding sun during the hottest time of the day.
Mountain-laurel
Mountain-laurel (Kalmia latifolia) is also known as mountain-laurel Kalmia and, is native to eastern North America and is hardy in USDA zones four to nine. The shrub is an evergreen that grows from 5 to 12 feet tall and about the same in width. The leaves are dark-green, oval-shaped and grow from 2 to 5 inches long in clusters at the tips of the branches. The flowers start out pink, fade to white as they age and grow up to 1inch across in clusters that are 4 to 6 inches in diameter. The bloom time is from late May to early June, with the flowers lasting at least 2 weeks. The flowers give way to small, brown fruits. Plant mountain-laurel in partial shade and a moist, organic soil.
Downy Jasmine
Downy jasmine (Jasminum multiflorum) is also known as star jasmine and is a member of the olive family. Downy jasmine grows from 5 to 10 feet tall and about the same in width. The plant produces stems and leaves that are covered in down, giving the whole plant a gray-green color. The leaves are oval and up to 2 inches long while the flowers are star-shaped, grow in clusters and bloom almost all year. Plant downy jasmine in partial shade and a moist soil. The plant is hardy in zones nine to 11.
Mayberry
Mayberry (Vaccinium elliottii) is also known as high bush blueberry. The shrub grows up top 12 feet tall with a spread of 3 to 5 feet and produces leaves that grow up to 1 inch long. The tiny, pink flowers bloom before the leaves appear in the spring growing in clusters of 2 to 6 and give way to an edible blue-black fruit. Plant mayberry in partial or full shade and in a soil that is wet or well drained and sandy. Birds will come for the fruit and the plants is hardy in zones six to nine.
Summersweet Clethra
Summersweet clethra (Clethra alnifolia) is hardy from zone four to zone nine. The plant is a deciduous shrub that grows from 5 to 8 feet tall and 4 to 6 feet wide. The shrub produces oval-shaped, dark-green leaves that grow up to 4 inches long and 2 inches wide, turning yellow-green or golden brown in autumn. The fragrant, small white flowers bloom in July and August and grow in clusters that reach 3 to 5 inches long. The flowers give way to small, brown fruits that stay on the shrub for one or two years. Plant summersweet clethra in partial shade and a moist soil
Resources