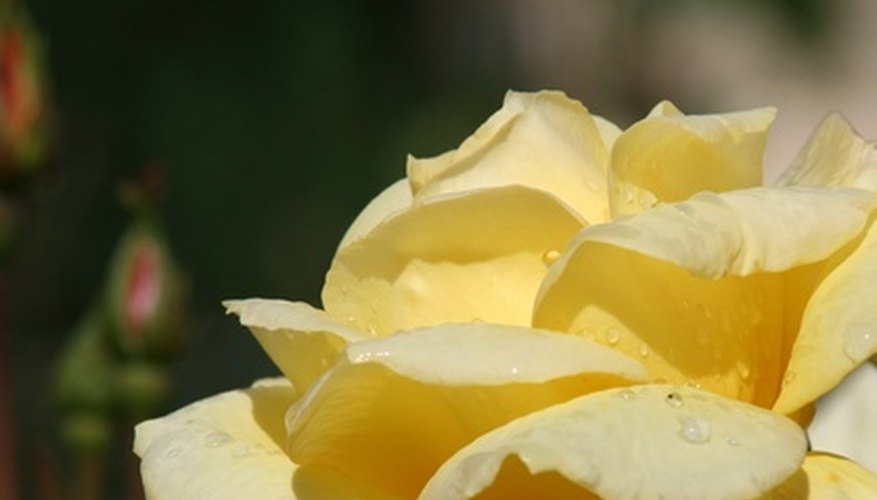 In gardening terms, "hardy" usually refers to a plant's ability to survive winter cold. However, the term can also imply resistance to disease and overall ease of culture. Two varieties of yellow climbing roses vie for the title of being the hardiest yellow climbing rose: the hybrid Golden Showers rose (Rosa 'Golden Showers') and Lady Banks rose (Rosa banksiae 'Lutea').
Origins
Lady Banks rose is a wild species rose native to western and central China. Named for Lady Banks, the wife of the chief scientist on Captain Cook's ship, this rose was introduced into European horticulture in the early 19th century.
Cultivar Lutea Golden Shower rose was introduced in 1956 in the United States by Lammerts. This hybrid descended from Rosa 'Charlotte Armstrong' crossed with Rosa 'Captain Thomas,' outdoing both parents in bloom size, color, fragrance and vigor.
Ornamental Features
The yellow Lady Banks rose blooms prolifically in early to mid-spring, with fragrant flowers with extra petals, a floral form known as "doubled". The flowers open yellow and slowly fade to creamy pale yellow. It usually attains a mature stem length of 15 to 20 feet, but very old plants grow larger, with 40- to 50-foot-long branches that lack thorns.
Much smaller in size, the Golden Showers rose attains a height or stem length of 8 to 12 feet. It blooms beginning in late spring and re-blooms across summer into mid-autumn if old, spent flowers are promptly pruned off. Also double in flower form, the bright canary yellow flowers have a scent that's a blend of anise and tea.
Cold Hardiness
Both Lady Banks' rose and the Golden Shower rose demonstrate limited cold hardiness. Of the two, Golden Shower enjoys a USDA Hardiness Zone rating of zones 5 through 9, while Lady Banks rose grows best in the milder winter range of zones 7 through 10.
Awards
The Golden Showers hybrid rose boasts several horticultural accolades: All-America Rose Selection (AARS) awards in 1956, the Portland Gold Medal in 1957 and the English Royal Horticultural Society Award of Garden Merit in 1993.
Uses
With their climbing stems, both of these yellow roses warrant use as spreading plants on picket fences or a hillside. Both tolerate pruning and manipulating into upright plants trained upon an arbor, trellis or even as a wall espalier.
Lady Banks grows considerably larger than Golden Showers, so the size of garden structure to be cloaked by the plants determines which selection is best. Finally, both roses demonstrate good resistance to typical rose plant foliar diseases, making them among the easiest to grow and lowest maintenance for gardeners.