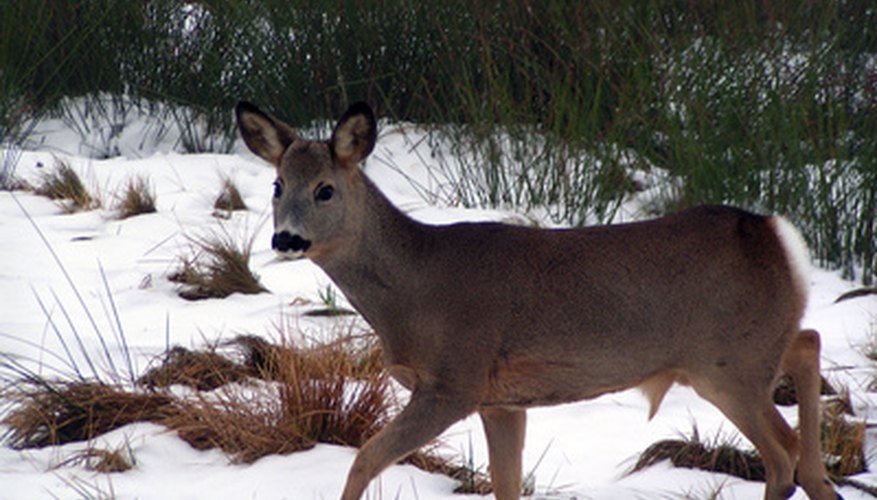 Wisconsin gardeners must plan for winter temperatures as low as -35 degrees Fahrenheit (-37 degrees Celsius)--to that end, they must find plants suited to USDA growing zones from 3 to 5, depending on their location, and finish all tasks within a growing season ranging from 120 days to 160 days. To top it off, they have to cope with grazing deer that can fatally damage an evergreen within a few weeks.
Deer and Evergreens
The Wisconsin Humane Society points out that no plant can be entirely deer-proof. During Wisconsin winters, a coating of snow covers ground forage for as many as four or five months, denying a primary source of food for a deer population under pressure from expanding suburban areas. Without deciduous leaves, deer are left with a choice of tender sapling trunks or evergreen foliage for winter food.
Deer forage more aggressively in late fall as the weather cools and in late winter as spring (and the rutting season) approaches. Wisconsin gardeners should choose conifers that deer will be less attracted to because of toxicity, taste or prickly needles.
Native Evergreens
The Lady Bird Johnson Wildflower Center at the University of Texas maintains a database of native plants, including shrubs and trees, for each state as well as a number of territories. According to the Center, common juniper, either prostrate or small tree form--and creeping juniper, also called red cedar--both have leaves that contain toxins that make them distasteful to deer. Other native evergreens that deer may pass by include Eastern arborvitae and Northern white cedar; these cedars were used by America's First Nations to build canoes and their sap contains vitamin C.
Large and small cranberry are both resistant but require boggy soil. Eastern hemlock attracts butterflies and can be pruned to form a hedge. Eastern red cedar, also known as Virginia juniper provides a native alternative to Japanese yew. Resistance may be relative to other available food in the area; across Lake Michigan, the Michigan Department of Natural Resources and Environment (DNRE) classifies white cedar arborvitae and white pine as trees that deer will feed on.
The Rutgers Project
The Rutgers University New Jersey Agricultural Experiment Station used the degree of damage likely to be done by deer to classify evergreens grown in New Jersey; many are also hardy in Wisconsin. Black and white spruces are Wisconsin natives that are seldom seriously damaged by deer.
The Japanese Black Pine, better known as a seashore tree and hardy only to zone 5, is rarely damaged by deer. The Japanese cedar (black dragon) is seldom damaged but is also hardy only in the far southern portions of the state. Japanese false cypress is a low-growing, golden cypress hardy to zone 4b.
Non-natives that have proven to be hardy throughout the state and moderately resistant to deer damage include Douglas fir, Colorado blue spruce, fast-growing Norway spruce and Siberian spruce, which features purple to cinnamon-colored cones. The Michigan DNRE concurs, saying that spruce is one of deer's least favorite snacks.