Climbing plants can be used to cover many landscape structures. And fences are no exception. Old fences that no longer have any use as well as chain-link fences and other landscape staples can be given a makeover with climbing plants that offer visual interest throughout the growing season.
Morning Glory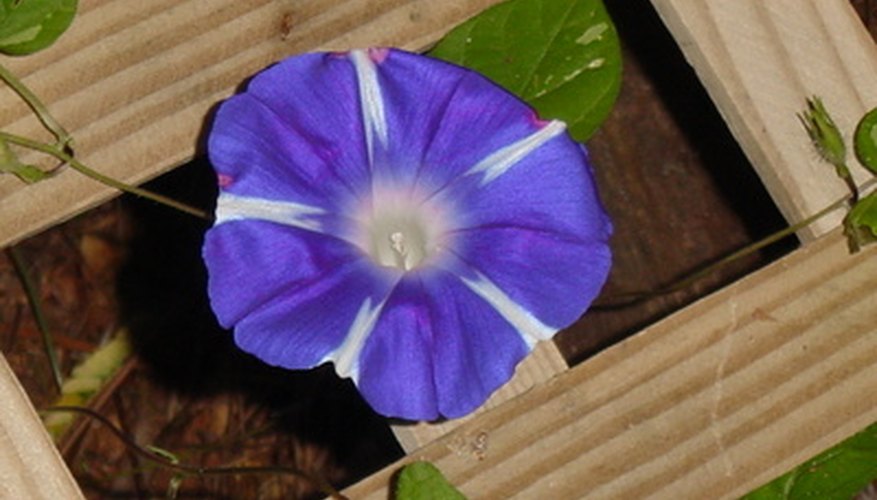 Morning Glory, Ipomoea, is an ornamental climbing vine that can be used to cover fences and other landscape structures. The vine produces large heart-shaped foliage and saucer-shaped flowers that open in the morning sun. The most common morning glory flowers are a bright periwinkle blue. But there are cultivars that produce red, striped, pink, white and purple blooms. Morning glories prefer full sun to partial shade and well-drained but moist soil. They thrive in hardiness zones 3 through 10 and reach 12 to 15 feet in length at maturity. In most climates Ipomoea blooms from July until the first heavy frost. In addition, the University of Illinois Extension states that the seeds are hard and should be nicked and soaked overnight before planting. However, these annuals, which often drop seeds to produce new growth in following growing seasons, are otherwise low in maintenance.
Vine-Type Sweet Pea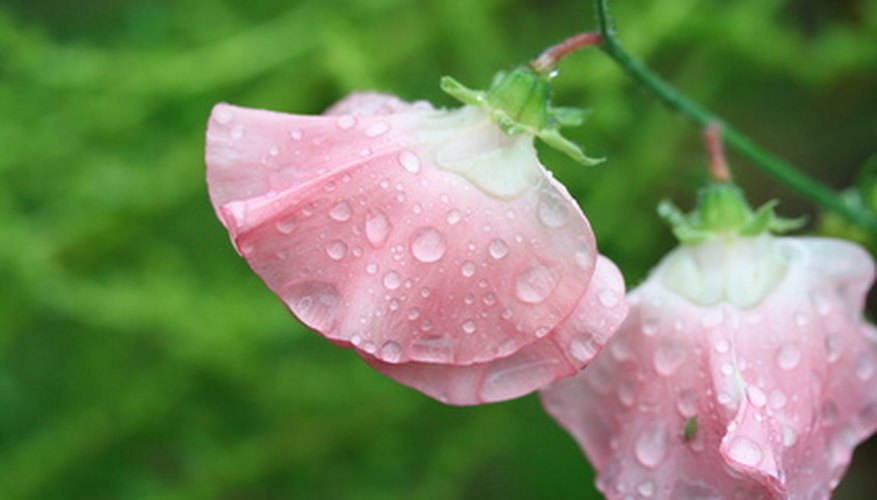 Sweet peas, Lathyrus odoratus, are an old-fashioned flower that has graced fences for centuries. This climbing plant produces frilly and colorful blossoms as well as a rich fragrance. In addition, the plant will provide small deep green leaves and curly tendrils. According to Washington State University Clark County Extension, vine-type varieties of sweet peas climb by wrapping tendrils around surrounding supports. These annuals like full sun and moist soil and are generally found in hardiness zones 4 through 8. They generally bloom throughout the wet spring season with blooms in a variety of colors including dark pink, purple, white and light yellow. The blossoms make great cut flowers. However, WSU states that the leaves and flowers from this plant are poisonous.
Clematis
Clematis is a vigorous climbing plant once it has established itself. This climber produces showy blooms as well as a sweet almond or coco scent. These hardy perennials require at least six hours of full sun to bloom. However, the plants root system prefers cool moist soil. According to the Ohio State University extension, clematis planted to cover a fence or other structure may need added support such as galvanized or plastic-coated wire because the vine can not wrap around large wooden structures. However, if covering a chain-link fence this plant will not require additional support. Clematis varieties can be found in hardiness zones 3 through 8.