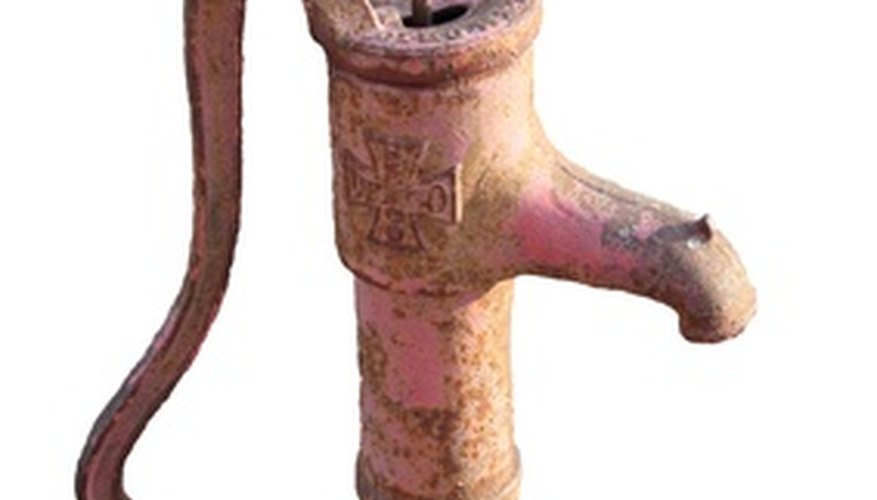 A galvanized bucket and faucet fountain adds country style to your landscape. The rustic appearance of an old faucet flowing into a bucket can fit in well with a flower bed or as a focal point beneath an old oak tree. Make one of these fountains from materials from architectural salvage yards, thrift stores and yard sales. Solar-powered and electrical fountain pumps are available in most landscape supply stores or from online retailers.
Seal any holes in the galvanized bucket with silicone sealant. Allow the sealant to dry completely.
Cut a 4-foot long section of copper pipe. Measure and mark the pipe 12 inches from one end, using the measuring tape and marker.
Measure the height of the galvanized bucket. Mark the copper pipe a length equal to the height of the bucket from the first mark.
Drill a 1/2-inch hole through one side of the copper pipe, 1 inch above the second mark, using the metal drill bit. Do not drill all the way through the pipe. The hole is for the plastic tubing that channels the water from the bucket to the faucet.
Solder a copper end cap onto the end of the copper pipe closest to the first mark. Solder a copper fitting for the faucet onto the other end of the pipe. Solder the faucet onto the fitting so that the spout is directly above the drilled hole.
Place the galvanized bucket in the desired location for the fountain. Insert the copper pipe, cap side down, 12 inches into the ground beside the bucket. The faucet spout should be facing down over the bucket.
Place the fountain pump inside the galvanized bucket, close to the copper pipe. Run the power cord over the side of the galvanized bucket to the electrical outlet or solar panel. Dig a small trench with a shovel to bury the cord as it runs along the ground.
Cut a 2-1/2-foot length of plastic tubing, using scissors. Attach one end to the pump and run the other through the drilled hole in the pipe, up to the faucet. Fill the bucket with water.