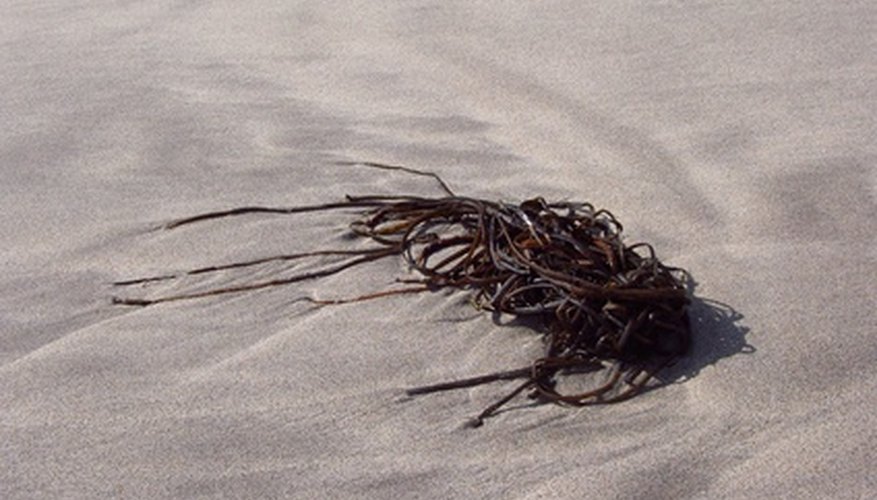 Making homemade seaweed plant food not only saves money compared to store-bought varieties, but allows you to avoid any harsh chemicals that factory produced fertilizers may have in them. Fertilizer made from seaweed is a good choice for feeding your plants because of the high nitrogen levels and concentrated minerals that nourish poor quality soils and help produce strong, healthy plants. Making your own seaweed plant food is relatively easy and the results will be worth the effort.
Find a clean five-gallon bucket with a lid. Cut a piece of plywood to fit inside the bucket about a quarter of the way up from the bottom. The piece of wood should not fit too tightly in the bucket. Place bricks on the bottom of the bucket to hold the piece of wood about a quarter of the way up from the bottom; place the piece of wood on the top of the bricks.
Gather bubble seaweed if possible since it will release more liquid. Rinse the seaweed under running water to remove excess salt. Mince a small amount of seaweed at a time in a food processor using a blade that will leave the seaweed somewhat chunky. Do not process until really smooth.
Add the minced up seaweed to your bucket on top of the piece of wood. Repeat until the bucket is filled about 6 inches from the top.
Cut another piece of wood to fit inside the bucket 6 inches down from the top. The wood should be about 4 inches smaller than the diameter of the bucket so it does not touch the sides. Place more bricks on top of the wood and put the lid on the bucket. Leave the bucket closed for two days.
Remove the bricks and wood exposing the seaweed. The seaweed can be put directly into your soil and mixed in well. If not using immediately, spread the seaweed on a foil-lined cookie sheet and place in a 200 degree F oven for about 12 hours or until dry. Once completely dry, store in an airtight container for six months to a year.
Remove the other piece of wood and save the liquid left in the bottom of the bucket. This can be kept in an airtight container either in the freezer or the refrigerator if using within four weeks. This seaweed extract makes an excellent fertilizer to apply to plants in place of your regular plant food.