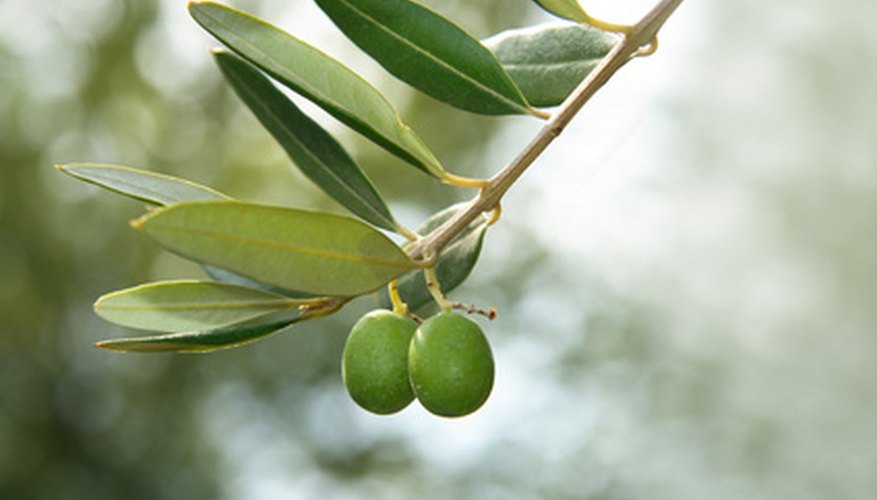 It was the Franciscan missionaries who first brought the olive to California, planting them at the missions they established. Even though some of those missions now lie in ruins, the olive orchards, some 80 to 150 years old, still remain. Most of these are located in Northern California, which is where the majority of the olive oil production in the state takes place. Olive trees thrive, however, in most areas of the state and Southern California has the perfect climate.
Dig a hole one inch shallower and the same width as the pot in which the olive tree is growing.
Remove the tree from the pot and, using your fingers, gently loosen any tangled roots. If any roots are circling the root ball, they will need to be cut. Try to handle the rootball as little and as gently as possible.
Place the tree in the hole and backfill halfway with soil. Fill the hole with water, allow it to drain and then finish filling the hole with soil. Mound the soil two inches up the trunk of the tree.
Create a water well around the olive tree. Mound up soil to a height of five inches and eight inches wide and form it into a ring around the tree, placed 12 inches away. Place a three-inch layer of mulch within the ring, keeping it two inches away from the bark of the tree.
Watering the olive tree will depend upon the Southern California region in which you live and the age of the tree. Agriculturists with the University of California divide the state into four watering regions: Coastal Marine, Coastal Cool, Coastal Warm and Interior Valley. In all four regions the new olive tree should receive one half gallon of water per day, via drip irrigation. As the tree ages, the amount of water you will need to provide changes, depending upon your region. There is a watering chart at the website listed in the resources.
Stake the olive tree only if it has a tendency to flop over. The experts at the University of California say it is preferable not to stake the young olive tree. If it requires support, drive the stake into the ground next to the tree and tie it loosely to the stake. Make sure that the material used to tie the tree is soft and pliable, such as a piece of old nylon stocking or pieces of fabric, and won't cut into the bark. Remove the stake when the tree is capable of standing upright.