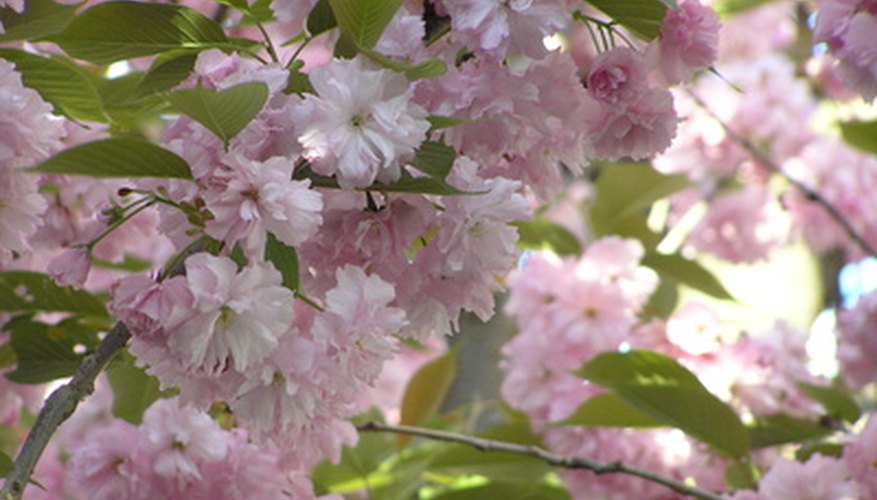 flowering of Japanese cherry tree (sakura) image by Petro Feketa from Fotolia.com
Seattle is a great garden town. Its mild temperatures and abundant rainfall provide an excellent environment for a diverse array of plants. Seattle is particularly beautiful in spring when the flowering trees are in bloom. Judging from a spring drive through city neighborhoods, flowering cherry trees are among Seattle's favorites. From city squares to suburban gardens, cherry trees show off their fragrant, blush rose blossoms in April. Native to Japan, they are available in many varieties and are easy to plant and care for. Once your cherry tree becomes established, it will quickly grow into a show-stopper that will last for many decades. Get started in either spring or early fall; they are both ideal for planting trees in Seattle.
Choose a sunny, well-drained site to plant your cherry tree. Ornamental cherry trees tend to be almost as wide as they are tall, so give them space to spread out to their fullest.
Dig a hole as deep as the root ball and 1 1/2 times as wide.
Amend the soil by mixing in a quarter compost to existing soil. Scratch 2 inches of compost into the bottom of the hole.
Remove the tree from its container and center it in the hole. If the tree is wrapped in burlap, cut the twine from the base of the trunk to prevent girdling as the tree grows.
Backfill the hole to the top of the root ball with improved soil. Tamp gently to eliminate air pockets.
Water until the planting hole is full. After the water settles, add more amended soil if needed. Water again, mixing in liquid plant starter which helps new plants establish strong root systems.
Spread mulch around the base of the tree 2 inches deep and 6 inches beyond the planting hole. Pull the mulch away from the trunk 2 inches to prevent excessive moisture against the trunk, which can cause rot.
Water deeply throughout the first season as the soil under the mulch becomes dry. Do not overwater. The Seattle sky provides regular rain. A constantly saturated root ball will cause the roots to rot and the tree to die.
Things You Will Need
Shovel

Compost

Mulch

Liquid plant starter
Tips
After planting, your cherry tree won't need fertilization. However, if you would like to help push growth a little in the second and third season, fertilize cherry trees with fertilizer spikes for flowering trees. Use according to product directions.

Yoshino and Kwanzan are the two varieties seen most in the landscape. Yoshino has blush pink blossoms and are the variety seen in the famous planting around the Tidal Basin in Washington, D.C. It grows to 40 feet tall and 30 feet wide. Kwanzan grows to about 25 feet tall and wide and has drooping clusters of pink flowers.

Pendula, or weeping cherry, has graceful and willowy branches that hang down to the ground. In bloom, they look like cascades of pink flowers. They grow 15 to 20 feet tall and wide.

Dream Catcher is a new compact, disease-resistant variety specially suited to smaller gardens and wet climates.