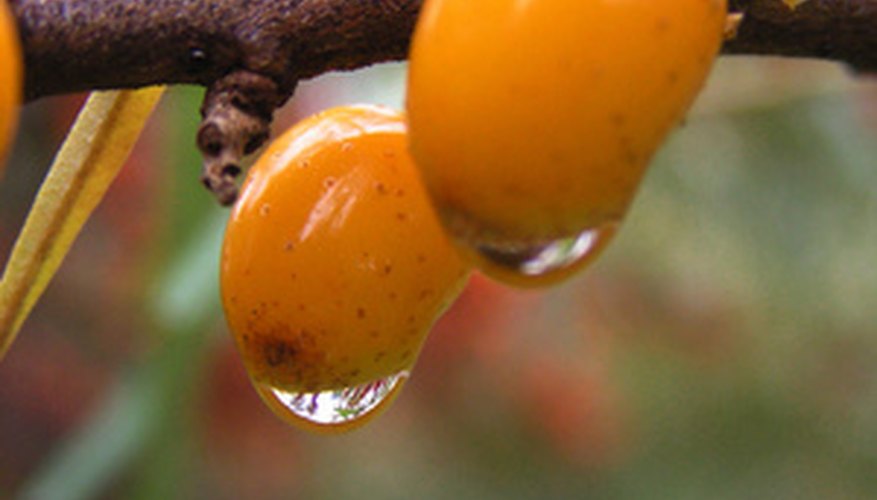 Widely cultivated in Canada for the production of food, medicinal uses, to prevent soil erosion and as an exotic plant specimen, sea buckthorn (Hippophae rhamnoides) provides extreme frost resistance and numerous cultivars that offers great success in the region. Sizes range from 6 feet to a towering 59 feet in height in bush or tree form. Fruit and seed production begins after 5 years, peaks at 8 years and continues until the plant reaches approximately 30 years old. The plant produces red, yellow or orange berries in abundance. Sea buckthorn is dioecious, which means pollination requires both male and female plants.
Remove all weeds from the planting location the year prior to planting sea buckthorn. Use glyphosate in the remove the weed growth successfully in the fall prior to spring planting. Reapply glyphosate in the spring to the planting area one month prior to planting the sea buckthorn. Follow the directions on the glyphosate for application instructions. Apply using a handheld garden pump sprayer or a backpack sprayer.
Plant in well-drained soil that is high in organic content. Peat moss, manure, or leave debris should be tilled into the soil at a ratio of 50 percent organic content mixed with 50 percent soil. Sea buckthorn can thrive in areas of high salt content. They are very adaptable to a wide range of soil pH levels according to the Pacific Agri-Food Research Centre of British Columbia.
(ref 2)
Space each tree 3 feet apart in rows that are spaced 13 feet apart. Plant at least 7 to 12 percent male trees for pollination to occur. Plant the males throughout the females evenly to insure pollination of all females.
Plant seedlings at the same depth they were planted at in the nursery. Water the seedlings thoroughly once planted.
Irrigate sea buckthorn if the area does not receive around 25 inches of rain annually. Adequate water is required to establish seedlings during the first few years. Never allow sea buckthorn roots to become water logged because the trees root system co-exists with nitrogen fixing bacteria and excessive water can destroy the bacteria and eventually kill the tree. The symbiotic relationship between the bacteria and the tree allows nutrient poor soil areas to benefit from the addition of the nitrogen.
Add phosphorous annually in regions of Canada that soil tests reveal lacks the nutrient. Nitrogen fertilizers are not required because of the sea buckthorn's ability to fix nitrogen into the soil. Most regions of Saskatchewan have adequate amounts of potassium in the soil according to the University of Saskatchewan but other areas of Canada may lack potassium so have a soil test done to verify the soil makeup and add potassium based on the test results.
Harvest sea buckthorn berries by hand. The University of Saskatchewan estimates that to harvest 1 acre of sea buckthorn berries takes approximately 600 man powered hours of hand picking.