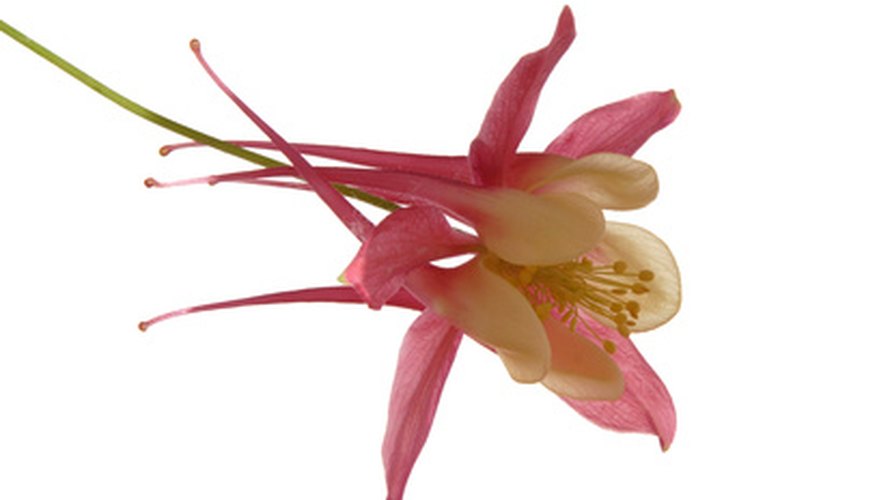 Many of Wisconsin's most beautiful perennial plants fall into the native plant category. Native plants work well in the state's diverse habitats that include wetlands, forests, and open prairies. The plants tend to be more disease and pest-resistant than introduced plants. Wildlife also rely on these plants as valuable food resources or for shelter and nesting, especially as more commercial development takes away their food sources.
Red Milkweed
A favorite for hummingbirds, butterflies and bees, red milkweed features clusters of fragrant pink to red flowers in mid-summer. Sporting an erect-growing form, the plant grows up to five feet tall with a three foot spread in moist, well-drained soil. After the flowers die off, long pods appear, holding seeds covered with fine hairs. These hairs help the plant disperse and grab hold in the soil so new generations grow.
Wild Columbine
The show-stopping but delicate, nodding blooms of the wild columbine work perfectly in woodland gardens. The red flowers with yellow centers bloom in late spring, dangling over the plant's delicate blue-green foliage that grows to three feet in height. The plant thrives in moist, well-drained soil. Hummingbirds find wild columbine a strong attractant as do bees.
Canada Wild Ginger
For gardens needing ground cover, wild ginger makes a great choice. Small red flowers hide under large, fuzzy, deep green heart-shaped leaves. The spreading plant thrives in slightly acidic, well-drained soil where it grows up to eight inches high and 18 inches in width. Over time, wild ginger forms a dense ground cover, offering shelter for small birds and mammals as well as beautifying the garden.
Shooting Star
A plant found both on the prairies as well as in open forests, shooting star features stunningly beautiful pink shooting star-shaped flowers appearing from April through June. The smooth-leafed plant reaches up to 12 inches in height, growing best in well-drained, slightly acidic soil.
St. John's Wort
Featuring finely-textured bluish-green foliage, St. John's Wort works well in either dry or moist, well-drained soils. The plant grows up to three feet in both height and width. In mid-summer, one-inch yellow flowers bloom. The blooms last for six weeks, making it highly desirable in dry gardens where other flowers may be fading. The flowers attract lots of pollinating insects.
Hairy Wild Petunias
Resembling cultivated petunias, drought-resistant hairy wild petunias make a great addition to dry gardens. The plant grows up to two feet in height, featuring dense clumps of grayish-green leaves. Showy flowers in shades of purple bloom all summer and into the fall. Since the plant is listed on the endangered species in the state of Wisconsin, seeds or transplants should only be obtained from nurseries.
Resources