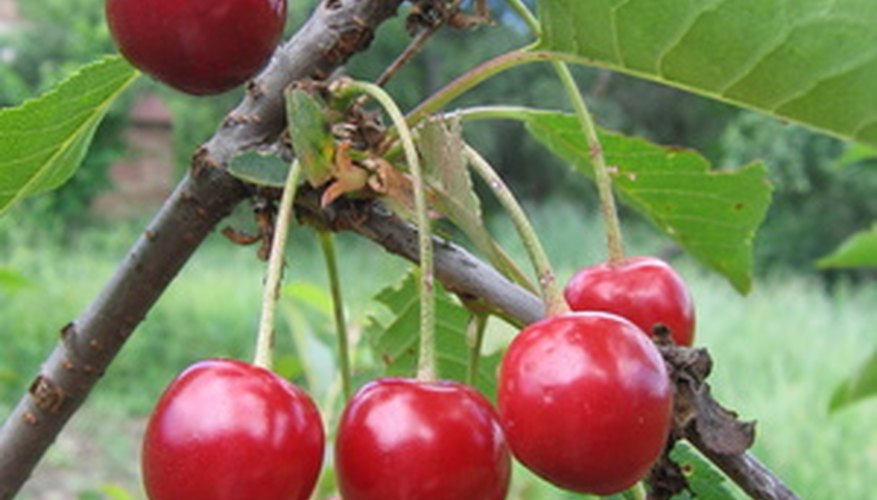 Red cherry trees fall into two main categories consisting of sweet cherries and sour cherries. Sweet cherries taste delicious right off the tree when mature. While some people eat sour cherries freshly picked from the tree, the cherry typically gets cooked first to make it more tasty. Most red cherries ripen in late spring when other tree fruits are just growing, giving gardeners an early fruit crop to enjoy.
Pollination
Most red sweet cherry trees require another tree to pollinate with in order to bear fruit. While the trees still grow and blossom, without a nearby tree to pollinate with, little to no fruit appears on the tree. Gardeners need to check on what cherry trees best pollinate each other as not all sweet cherry trees cross-pollinate. Sour cherry trees do not require another tree with which to pollinate as they are self-fertile.
Planting and Pruning
Most cherry trees thrive in well-drained soil in full sun. Cherry trees tend to be very hardy since they bloom early in spring when the threat of late frost still presents a danger. Planting trees on higher ground or on mounds away from buildings keeps frost damage to a minimum. The plants require regular watering until well-established. Most cherry trees need to grow three to five years before the first fruit appears. Cherries get pruned in the summer to let in light and to thin out branches.
Varieties
A variety of red cherry trees exist, including the native wild red cherry. Also known as the pin cherry, the tree features sour cherries that grow on plants reaching 15 feet in height. Pin cherries represent one of the few red cherries that mature in late summer and early fall, growing in Canada's boreal forest regions. One of the most popular sweet cherry varieties, the bing cherry, grows in hardiness zones 5 to 9, featuring large sweet juicy cherries. The most popular sour cherry, the Montmorency cherry, grows in zones 4 to 9. Most pies get made with Montmorency cherries.
Wildlife
To protect cherry trees from birds who love the mature fruit as much as humans, the tree may need to be secured with netting. For gardeners interested in attracting wildlife, cherry trees appeal to songbirds, quail and pheasants as well as small mammals who nibble at the fruit to get to the seed.
Uses
Sour cherries primarily get used in pies, cobblers and crisps. Sweet cherries work well in just about any recipe calling for cherries although jams, jellies and preserves as well as fresh eating make good use of the delicious little fruits. Both types of cherries work well as dried fruits.