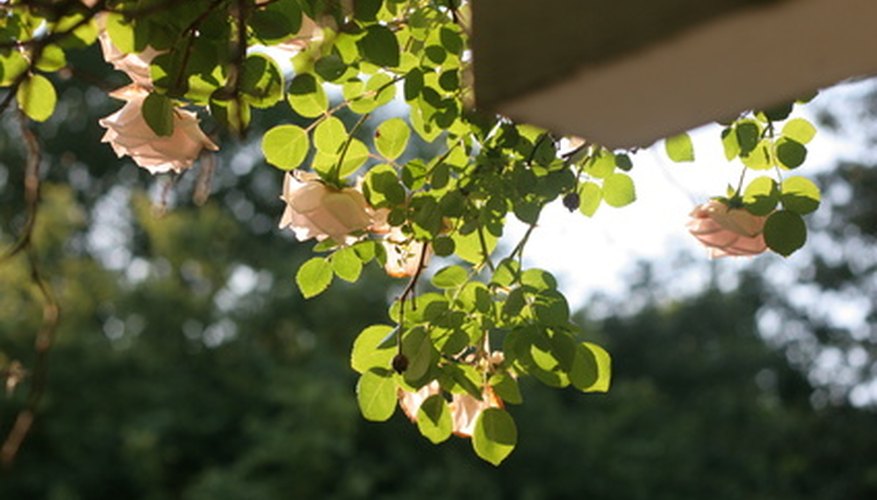 Climbing roses can add another dimension to your garden by taking the beauty in an upward direction. Trained to cover an arbor or trellis, these vines can bring vibrant color to eye level or higher, and some offer repeat blooming throughout the growing season.
Climbing roses don't actually climb by themselves. They must be trained or tied to a trellis or arbor to grow upward, but this is easy to do. Roses as a group have gained a reputation of being finicky and hard to grow, but there are a number of climbers that are easy to get along with and give a great return on your gardening investment.
Lady Banks Rose
Lady Banks may be the queen of the climbers, as her easy-going nature finds her at home in countless gardens. The Lady Banks rose is among the most disease-resistant of all roses, seldom falling victim to the usual culprits of powdery mildew or black spot. It is also very drought tolerant, weathering a long hot summer better than most.
This profuse spreader comes in both white and yellow forms, with yellow being the most common. Mercifully, its canes are thornless, making Lady Banks easy to work with. These beautiful plants are durable and can last a lifetime with minimal care.
New Dawn
A double-flowered pale pink beauty, New Dawn has been around since 1930. This exceptionally hearty rose is disease- and pest-resistant and can be grown with as little as four or five hours of sunlight per day. Choose the location of a New Dawn climber carefully, as it can quickly exceed your expectations in terms of growth. A new plant may take up to three years to become fully established but rewards your patience with dependable performance, repeat blooming and canes up to fifteen feet long.
Don Juan
As the name implies, many a gardener has fallen in love with the hearty nature and impressive crimson blooms of the Don Juan climbing rose. This selection prefers full sun and grows canes up to fifteen feet in length. Don Juan's repeat blooms have a strong fragrance and make good cut flowers. The large blooms are set off by dark green, hearty foliage that is resistant to black spot.