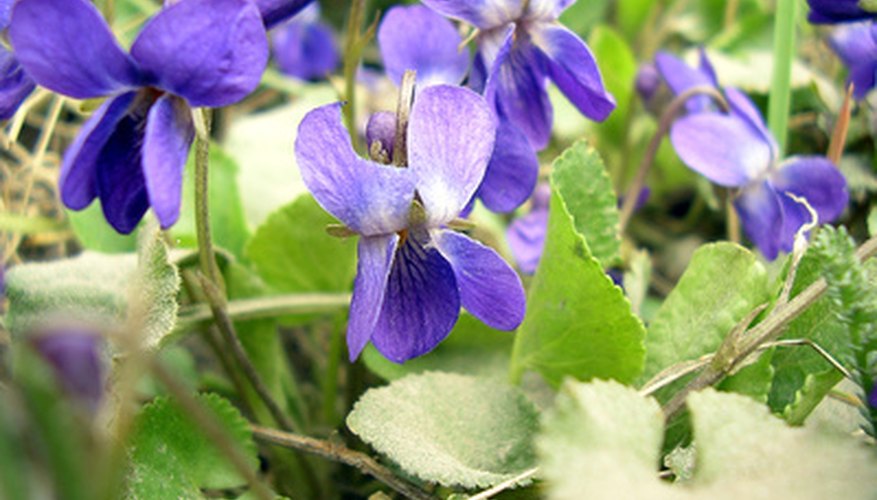 the first violets image by Kostyantyn Ivanyshen from Fotolia.com
From the grand gardens of Biltmore to the tiny window boxes on seaside cottages, North Carolina is known as one of the great garden states. No wonder. The mild temperatures and abundant rainfall provide the perfect environment for growing a wide selection of plants all year long. Fall is a great time for planting flowers that bloom in the fall and winter in North Carolina. Some plants like pansy, violet and flowering cabbage can be counted on to give color all winter. Others, like snapdragon, aster and chrysanthemum will give color until the first freeze.
Select a site suitable for your new plants. Most plants in North Carolina can tolerate full sun in fall and summer. Some, like snapdragon and violets, do well in partial shade. Plant labels have information on light requirements.
Amend the planting area by mixing in athird compost to existing soil about 12 inches deep. If you are infilling an area with established plants, improve the planting hole for each plant by the depth of a garden trowel.
Tuck each plant into its new spot with a garden trowel and your hands so that its roo-ball is at the same level as the soil.
Spread a little slow-release fertilizer around each plant according to label directions.
Water each plant until the soil is moist. Using a vitamin-rich liquid plant starter with the first watering helps the plant develop a strong root system. Follow label directions.
Spread a layer of mulch around the plants one to two inches deep. North Carolina winters tend to be wet. Mulch helps keep soil from splashing onto plants during rain showers.
Water the plants in the winter when the soil becomes dry.
Deadhead spent flowers and snip off dead or yellowing leaves throughout the season. This will help them rebloom.
Things You Will Need
Shovel

Garden trowel

Compost

Mulch

Watering can

Liquid plant starter

Slow-release fertilizer
Tips
You can plant fall and winter flowers in coastal North Carolina anytime from late summer to mid-fall: about September 1 to November 1. In the western mountains, start your plants no later than the first day of Autumn so they have time to get established before the first freeze.

North Carolina can be humid in fall and spring, which makes garden plants prone to mildew. Make sure you give your plants the space to grow and avoid overhead watering to alleviate mildew.

Many spring-planted flowers like bachelor's buttons, Nippon daisies, larkspur and cosmos perform beautifully throughout the fall.