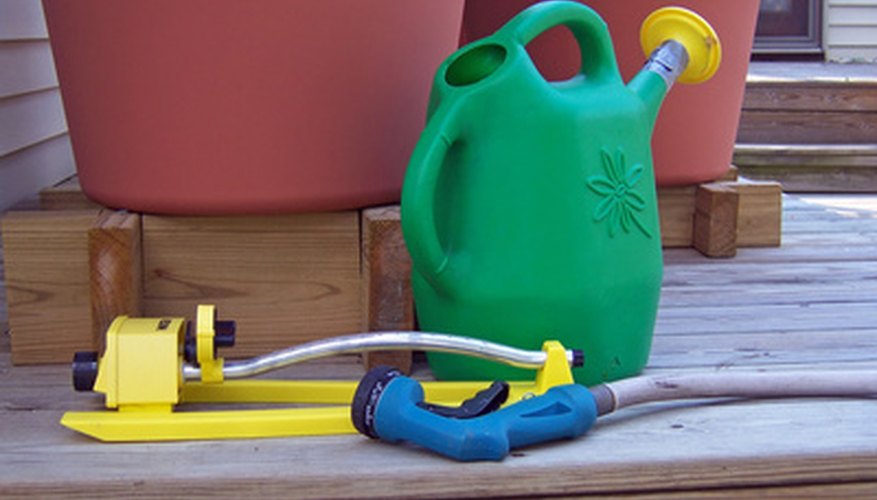 Houseplants, landscaping plants and patio greenery require regular irrigation to survive. For most landscape plants, an automatic irrigation system with a timer simplifies the task and makes it easier to go away for an extended holiday without arranging to have someone water the plants. Container plants are more of a challenge, yet a variety of gadgets on the market claim to self-water plants.
Wine Bottle Plant Nanny Stake
A Wine Bottle Plant Nanny Stake, by the Plant Nanny Company, works with a recycled wine bottle to irrigate plants. One end of the terra-cotta colored stake is pointed, which pushes into the soil. The other end of the stake holds a recycled wine bottle, filled with water. With the stake pushed into the soil, the bottle is upside down and gradually supplies water to the plant's roots.
Self-Watering Probe
The self-watering probe, marketed by Rittenhouse, features a tube that leads from the probe to a separate water source. The ceramic probe needs to be soaked for 15 minutes prior to use. Remove the cap from the top of the probe, and fill the devise with water. After filling with water and replacing the cap, the probe is pressed into the soil. The hose, attached to the cap, runs from the plant to a container filled with water.
Watering Bulb
Watering bulbs are available from a variety of manufacturers, and come in an array of styles. The device features a bulb atop the probe, that gardeners fill with water. Some watering bulbs are hand-blown, single pieces made of glass, while others have separate bulbs that detach from the gadget.
Grobal Pot
Instead of adding a device to the plant, Grobal has the gadget built into the plant's container, with its line of self watering pots. The Grobal pot is a sleekly designed, container, available in a variety of bright colors. The bottom of the container is a reservoir, which holds the water. The top of the pot, which holds the plant and soil, lifts off the reservoir. On the bottom of the top portion are several probes that sit in the reservoir, absorbing the water up into the soil.
Mobile Plant Wall
Another container with the water gadget built in, is the Mobile Plant Wall by Greenworks. The Mobile Plant Wall is designed to create a wall, hedge or barrier, with a built-in irrigation system. After its container is filled with water, a timer is set and the planter waters itself.