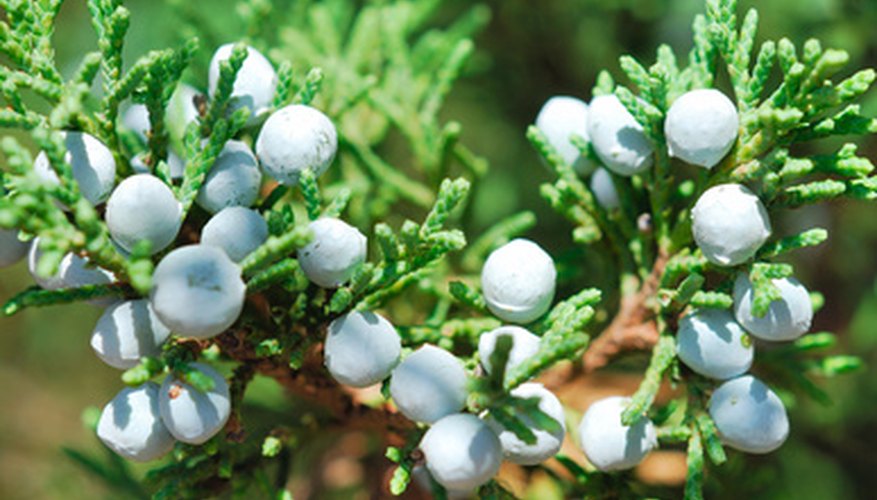 Generally, junipers will grow in any type of soil, as long as it isn't overly soggy. They keep their foliage throughout the year, although they may change color a bit, with the change of seasons. This drought resistant plant comes in tall trees to lower bushes. There is a juniper variety that will fit in with any landscaping.
Skyrocket Juniper
This columnar shaped tree is tall and narrow. It grows to a mature height of between 10 to 20 feet, with a width of only 1½ to 2 feet. It comes in foliage colors of blue-green to gold-green. It can be planted almost anywhere in USDA plant hardiness zones 4 through 7. It is deer and rabbit resistant, as well as drought, wind, slope and saltwater resistant. This easy-care tree requires only regular outdoor plant watering, but prefers to be planted in a full-sun location.
Blue Star Juniper
The blue star juniper is a low growing bush or ground cover. It can reach a height of 2 to 3 feet at maturity. This blue-green evergreen is not particular about its soil condition, but loves sunshine. It makes a nice decorative low hedge, when planted in a row, along a flower bed, sidewalk or path. It is low maintenance, but give it plenty of water the first year. After that, just water whenever the surrounding landscaping is watered. It grows best in planting zones 4 through 8.
Savin Juniper
A common landscaping shrub, the savin juniper grows to a mature height of 4 to 6 feet with a wide spread of 5 to 10 feet. It does well in most soils and watering conditions, except extreme soggy soil. It prefers a full-sun location. A smaller cultivar of the savin juniper, broadmoor, only grows to a height of 2 to 3 feet with a very wide span of 10 feet. Buffalo is an even shorter cultivar of the savin juniper, at a height of 12 inches. The savin grows best in planting zones 4 through 7.
Rocky Mountain Juniper
The Rocky Mountain juniper tree is dense and bushy, with blue-gray-green berries that are eaten by many wildlife species. Native American Indians used the berries as a food source. It is cold hardy to zone 3. This tree grows naturally in and around the Rocky Mountains, as well as other regions. It has a preference for moist soil; however, it is extremely drought resistant. It stays green year round. This juniper is very rugged, giving a rugged appearance to the landscaping. It grows to a height of 30 feet.