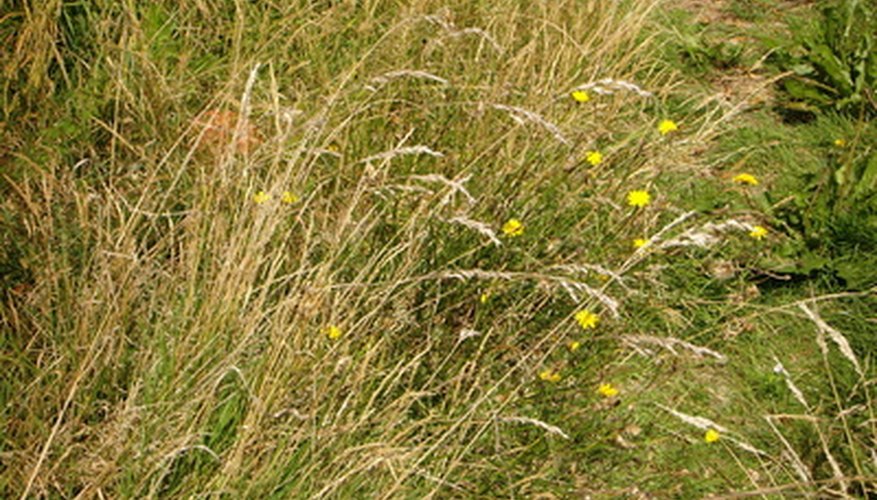 Sethoxydim is a post-emergent herbicide that controls Bermuda grass (Cynodon dactylon) and other perennial or annual grasses. Broadleaf plants, such as ornamental ground covers or wildflowers, show tolerance to the substance. Since it is nontoxic to bees, it is a safe option for flower gardens, orchards and areas where pollinating insects provide a beneficial service. Weed scientist and agronomist W. Carroll Johnson III advises that occasional leaf-burn may occur on desired plants. But because the damage is minor and rare, sethoxydim is a good option even in forage pastures.
Mow the lawn or pasture no sooner than five days before applying the herbicide. Irrigate the area frequently and encourage weed growth.
Wear protective gear and mix sethoxydim with water in the spray bottle. Write "herbicide" and "sethoxydim" with a permanent marker on the outside of the spray bottle.
Spray Bermuda grass when it reaches 1 to 6 inches high. Repeat this step when the grass measures 6 to 12 inches high. Thoroughly wet the grass blades during the spraying process.
Mow lawn areas or forage pastures after about two weeks. This simplifies the removal of the dead or dying Bermuda grass. Remove clumps of grass from flower beds by hand and discard them in trash bags.
Repeat the entire process if a new crop of Bermuda grass grows. Take care to apply the sethoxydim before the grass produces and disperses seeds.
Change clothes after spraying the herbicide. Launder the clothes in hot water, separately from other clothes. Throw away work clothes that become saturated with the chemical.