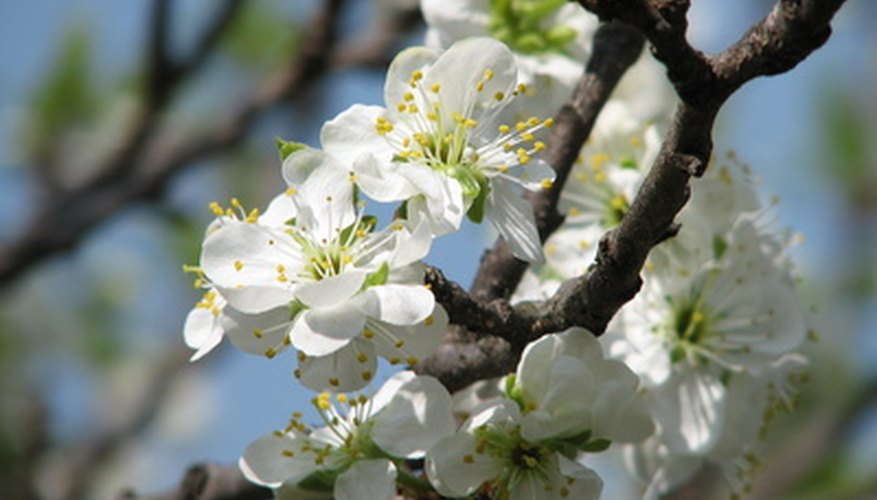 Gardening in Colorado can test even the greenest of thumbs, according to the Colorado State University Extension. Overcoming low humidity, drying winds and high-alkaline heavy clay soil is at least as challenging as dealing with the state's elevation. Finding plants that perform all year long in the Denver area is one way to minimize garden labors while maximizing enjoyment. Several of Denver's flowering trees make welcome contributions throughout the growing season.
Flowering Crab Apple Louisa
A member of the rose family like all flowering crab apples, Louisa is a short, spreading tree standing up to 15 feet high with an equal spread. Its cascading branches often sweep the ground. They produce profuse 1.5 inch, fragrant pink blooms over two weeks in spring. Glossy green leaves follow the bee-attracting flowers.
One-half-inch green crab apples follow the fruit, becoming yellow and red in autumn. They complement the tree's green, scarlet and yellow autumn foliage and provide food for birds. Louisa, advises the Missouri Botanical Garden, likes moist, well-drained sandy loam. Soil on the acidic side and high in organic material produces the best results.
Goldenrain Tree
Goldenrain tree (Koelreuteria paniculata), a member of the soapberry family, is native to Korea and China. Up to 40 feet high and wide, it has delicate feathery leaves. Bronze or purple when new, they change to bright summer green and autumn yellow. Goldenrain trees have cascading 12- to 15-inch clusters of one-half-inch flowers in June and July. Showers of dropping blooms surrounding the base with masses of color account for the tree's name.
A good shade provider and pollution-tolerant, this tree is hardy to about 6,000 feet. It likes dry to slightly moist, well-drained soils but isn't particular about soil type. Plant it in full sun where its blooms will be appreciated and its tendency to self-sow doesn't produce unwanted seedlings.
Flowering Plum Stanley
Dwarf flowering plum Stanley (Prunus domestica Stanley) is actually a plum-prune cultivar. Producing long-lived sweet fruit, Stanley stands from 8 to 10 feet high. Its small stature means easy pruning and harvesting. While it has abundant fragrant white spring flowers, Stanley is primarily a fruit tree. The attractive deep purple plums, ripening in September, have delicious aromatic yellow flesh.
Trees usually bear crops after three or four years. Plant them in full sun and well-drained soil in elevated locations less likely to experience late spring frosts. Periodical insecticide spraying controls peach borer and pear slug infestations.